It's yet another review from us lot over at UnitedKpop, but we hope this one might peak your interest, as the product we're reviewing today is available for purchase within the UK from KC Beautique.
The packaging is well designed, as is expected from Etude House, and the box is also very cute, and very pink. I think the packaging could very well have pushed the border of cute and sweet into tacky territory, but Etude remains thankfully within the realms pf classy. I don't think anyone using this would be embarrassed to have it in their make-up bag. I like that Etude have chosen to play off the 'cream' aspect with cooking references. They imply the product is sweet smelling, and boy does it live up to it's title.
If I didn't wear make-up, I would be tempted to buy this purely because it smells so good. It actually smells a little too good, and you may need to resist eating the product. As nice as it smells, I don't imagine it tastes too great. But hey, your face will be radiating a sweet berry scent for a little while – it dies down pretty quick, sadly.
The texture of the product is really smooth and well, cream-like. It's similar to butter icing, although thinner and smoother. It applies well to skin, it's not overly streaky as I've found with some brands.
Below are before and after shots with the make-up. Hopefully, my glaringly orange hair will distract you from my terrible complexion in the no-make-up photos, until the make-up does it's trick and shows you the great complexion it promises on the box – and it does deliver.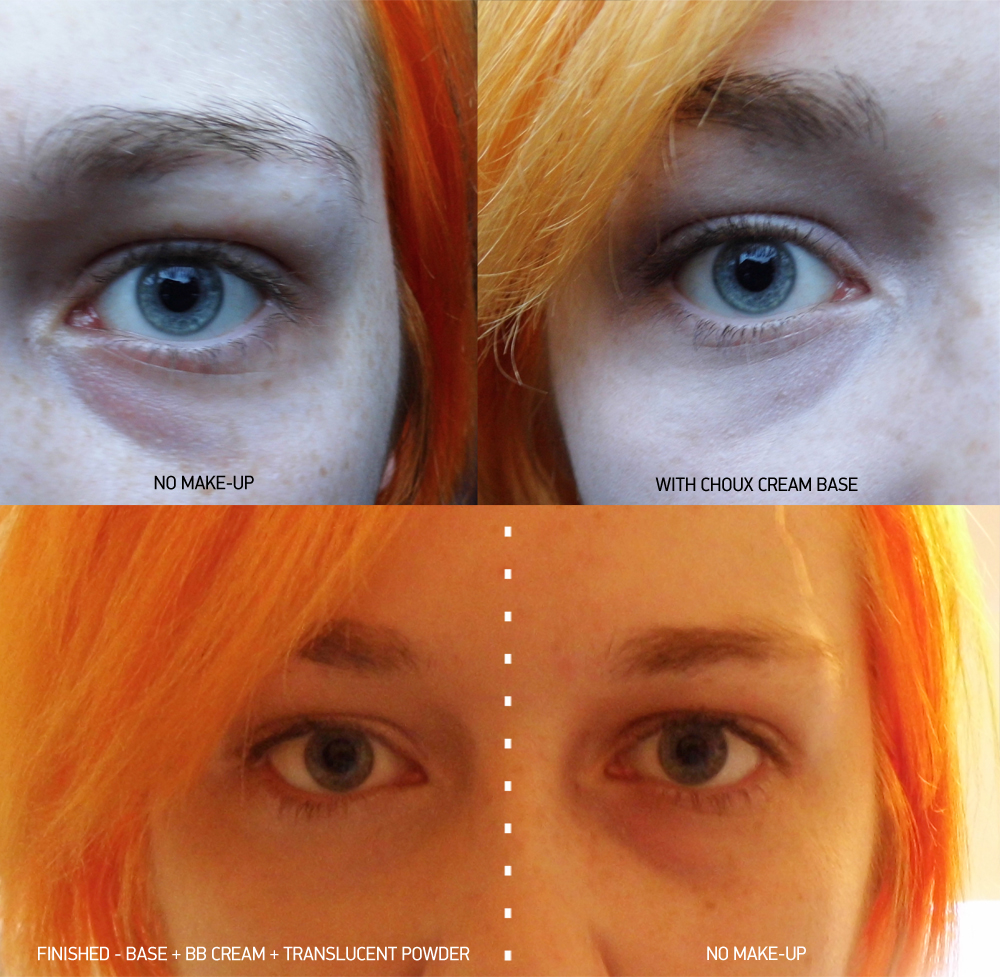 Pictures 1 and 2 show under my eyes before and after the choux cream. The cream catches the light well like highlighter would, and it gives your face that 'glowy' healthy look, so despite this being a base, you probably won't need to break out the highlighter. On to picture 3, which is half Choux cream with BB cream and translucent powder and half no make-up – I used the brand Misha for the BB cream.
It's not drastic, but there is a visible difference between the two, with the Choux cream side being better covered and making light of the terrible bags under my eyes. The powder does take some of the shine out of it, but trust me, that's a good thing. Without the powder, I had a serious shiny face look going on. It looked a bit like I was sweaty and that's, well, gross. The overall finished look creates a natural make-up look, meaning you can get rid of the bags under your eyes without looking too 'doll-like'.
However, the shiny look wasn't from the Choux cream, as it's fairly matte, it was the addition of BB cream that lent the glossier sheen to my skin. I've found you can wear the Choux cream on its own, although as a base I wouldn't imagine that's typically the social norm. But the Choux cream does cover well enough that it could easily be considered thin foundation. If you're just going for a quick paste of make-up on your face to cover spots and such before rushing out the door, the cream would do this well on its own.
From the before to the after photo my spots have become near enough invisible, the bags around my eyes have lifted and all in all my complexion looks very bright and healthy. My skin also feels really smooth. But although the cream boasts SPF25, PA++, I don't recommend wearing it under hot sun. With our recent stroke of summer 'luck' and heat, I've found myself venturing outdoors more often than usual, and layers of make-up can prove to be incredibly uncomfortable in this heat, so I've been heading out without any foundation, BB cream or such like and only doing my eyes. Sometimes I go full baby face without any make up at all, and surrender myself to looking perpetually 14 years old – anyone else have this problem?
The product comes in a few 'shades'; Berry, Peach and Mint. The one featured here is Berry, which aims to brighten complexions – as you can see. Peach is to tame yellow tones whilst Mint is to help fight red tones. Hopefully in the future, we can show you how each one looks applied. Until then, you can find reviews of Peach and Mint, here and here.
Overall, I rate the product a hearty 4 out of 5, and I would recommend it to any of the Korean cosmetics enthusiasts reading this. I believe my review doesn't quite do it justice, so I believe you'll have to give it a whirl yourself. You can buy it from KC Beautique here, and if you use this code "UKP13", UnitedKpop readers can bag themselves 10% off. Happy shopping!