MV Monday today looks at the return of PSY, collaborating with Snoop Dogg to present Hangover. You might find yourself questioning whether it should be Snoop Dogg featuring PSY though the mv is unmistakably of the PSY trend.
The mv sees PSY and Snoop Dogg indulging in drinking culture in Korea and also trying out many of the hangover cures that are more unique to the Korean culture.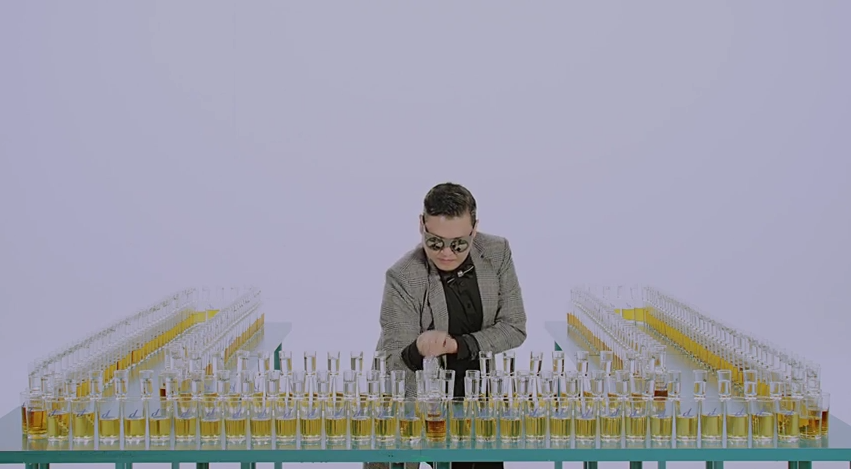 We see PSY create the drink Somack (소맥), in a rather novel domino-esque way. Somack is a combination of Korean beer and Soju.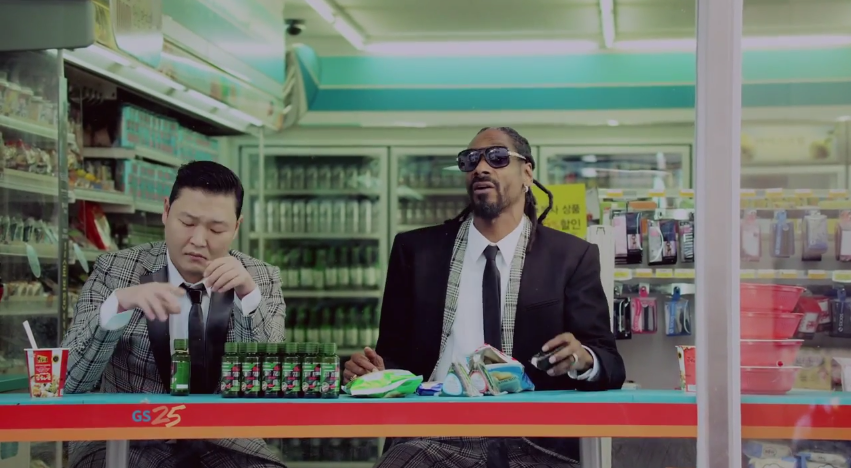 PSY here is drinking a hangover cure drink called Condition Power. Its main ingredient is heotgae, one of the big well being supplements in Korea. Heotgae (헛개, Oriental Raisin Tree) is said to have properties that break down alcohol.
Next to PSY is also a brand of cup noodle soup, a food many Koreans will eat when attempting to sober up.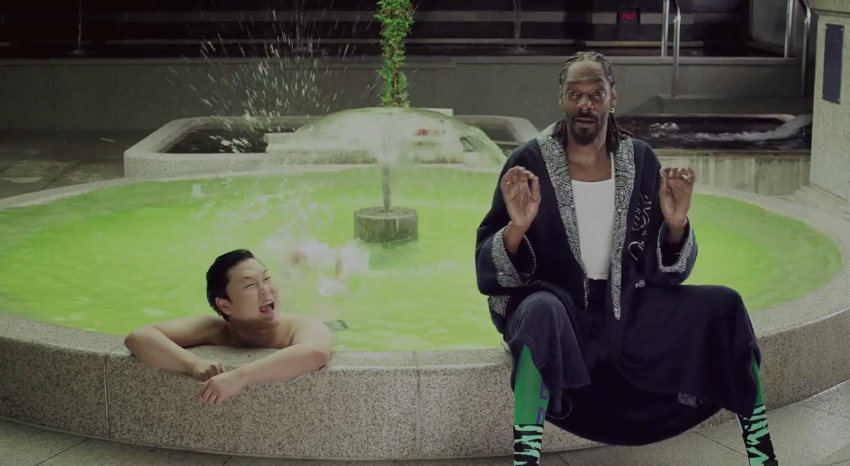 Here we see the pair at a spa, it would not be unusual to find Korean relaxing in a spa to cure their hangover, and although we can be rather certain PSY has shorts on in the mv, it isn't uncommon for spa patrons to be naked.
Green water isn't uncommon either, you can find Green Tea Spas all over Korea and Japan!
As we see the pair drink soju in the restaurant we hear the Korean Badeusio this means take another shot and this is what they do. 
The two older ladies the pair meet in the restaurant stay with them as they visit the Korean karaoke rooms, or Noraebang. As they get more drunk its clear beer googles aren't exclusive to the lad culture of the UK as double vision ensues and the middle aged women become beautiful young girls.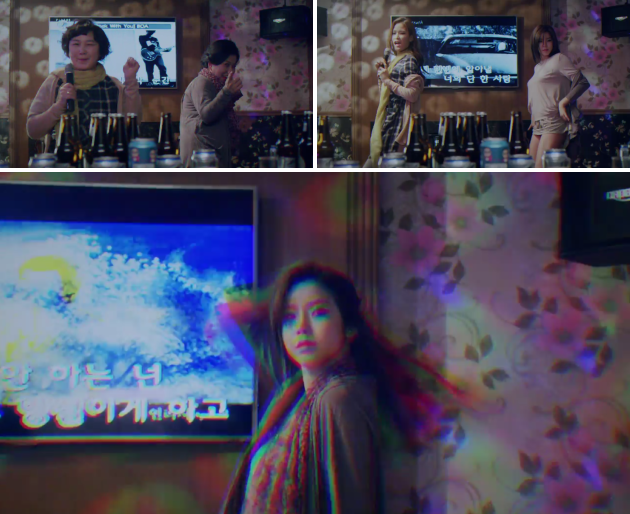 G Dragon also makes a guest appearance in the Noraebang, he too appears to be possibly drunk, his movements exaggerated, but everyone else also appears unaware of him.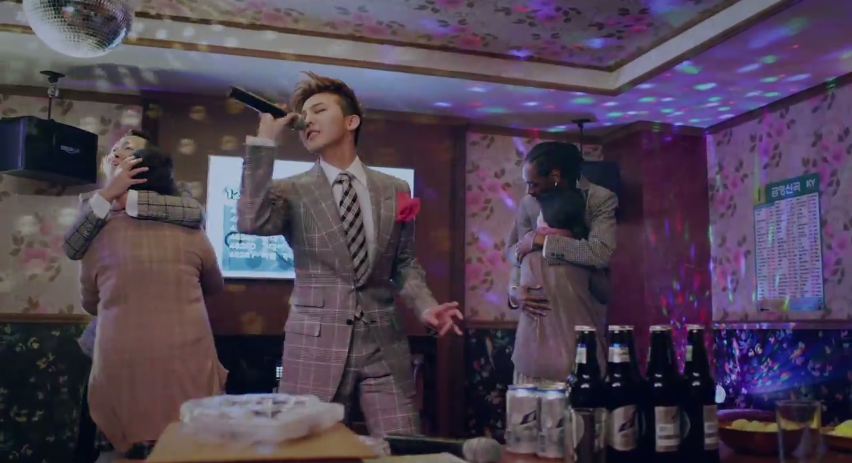 The scene in the pool hall is possibly a little bit of drinking culture that fulfils some of Snoop Doggs wants for the video. On Jimmy Kimmel Snoop said of the Hangover mv:
For me, it was awesome, because I've always wanted to be in a martial arts video
Of course nothing about the mv is a 'martial arts video' but we can take a look at the pool hall and stretch his quote to find a similarity. There are many Korean media representations of pool halls in which they are associated with gangsters. The pair even get to do some impressive moves in the scene, I say the pair, watch closely and you'll notice PSY becomes rather svelte when shot from the back, and his parting switches sides. It's probably not surprising a double was needed for a flip, but attention to detail is needed when the world is watching.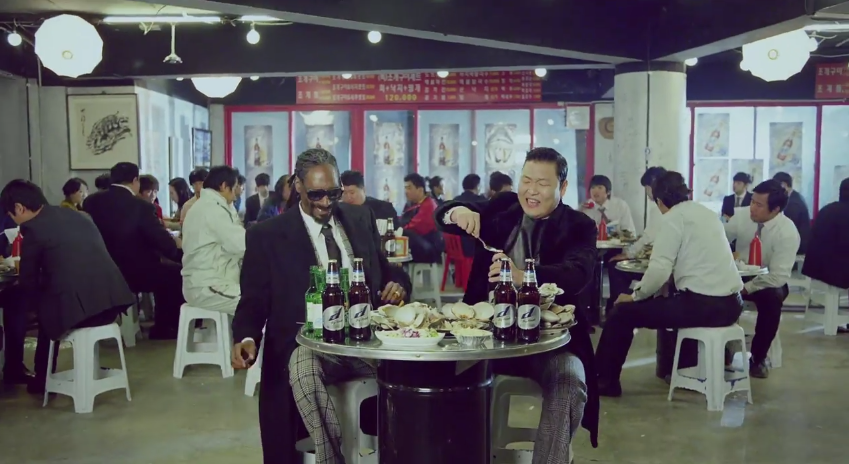 Here PSY is using a spoon to open a beer bottle. This is probably what we'd now consider a very simple 'life hack' and once you realise its possible you'll wonder why you've never realised it before – but opening bottles with spoons is something Koreans have been doing for a long time.
Designer Wi Jeong-hwan brought it to the attention of New Yorkers via the MOMA art gallery in 2009 when his Destination Seoul project showed all means of practical innovations – including the Spooner Bottle Opener inspired by how Koreans would use a spoon to open beer bottles if they didn't have a bottle opener.
Love or hate the song, Hangover's mv does as PSY's other mvs have, give us an interesting insight into an aspect of Korean culture we might not otherwise have.

Do you like PSY's new song or the mv? 
The content of this article may be similar to that appearing on the personal website of the writer