BTS has been continuing to break records as they recently dropped their latest repackaged album, and even broke into the UK iTunes chart with four of their songs recently.
Ramsay has never been one to mince his words when it comes to food, especially on his show 'Hell's Kitchen'. However, it doesn't seem like British celebrity chef Gordon Ramsay seemed impressed in regards to BTS Jin's cooking as one fan sent a tweet to him, asking the chef to rate the artist's cooking.
Though, it must have been the case that the fan did not expect to get a response back as Ramsay did not hesitate to express what he thought of the the picture as being "overcooked eggs with worms".
Perhaps it wasn't the best example to showcase Jin's cooking abilities, but how would you have rated his cooking?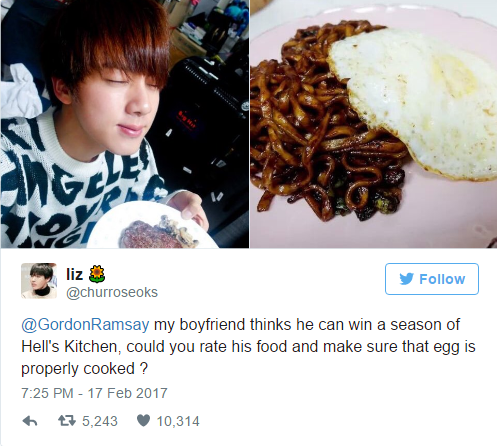 Over cooked eggs with worms ! No thanks https://t.co/oMd6uN8fU6

— Gordon Ramsay (@GordonRamsay) February 17, 2017