After what seems like an age, f(x) have finally made a comeback with 'Red Light' this month. Fans were clearly eager to see what the group would give them as the music video reached a colossal 1 million views in the first 12 hours after it was uploaded!
The girls have always had very interesting concepts, yet their clothing has still been quite approachable for even the shyest of dressers. It's also nice that each member usually has a particular twist in their individual look to suit their separate image. Let's see how you can get their 'Red Light' look!
Here is the MV to remind yourself of the style:  
 For this 'Get the Look', we are focusing on the both the army/military and more formal costumes seen in the video. The shorts make this a great summer look and allows for the inclusion of leggings/tights to mix it up a little (or if you're not keen of showing your legs)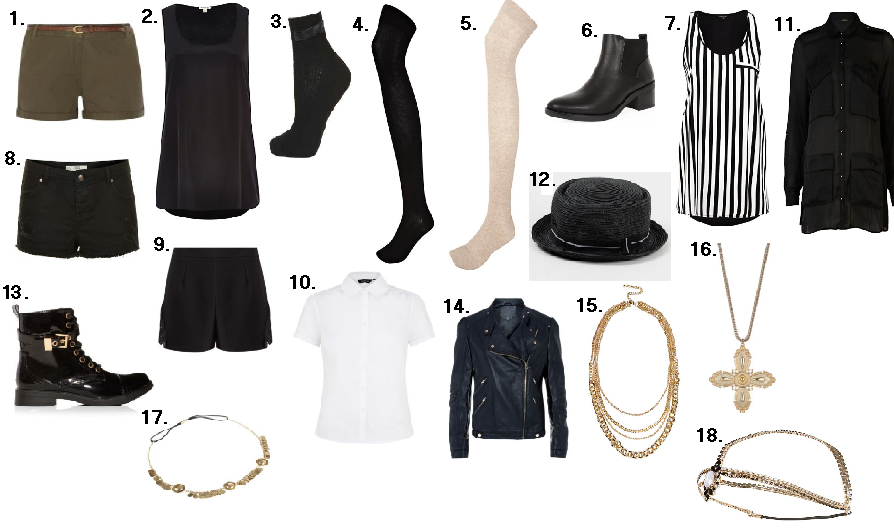 .
Khaki Belted Chino Shorts [Green] – New Look: £14.99
Black Woven Front Scoop Neck Vest – River Island: £14
Black Bow Trim Ankle Socks – Topshop: £3.50
Black Over the Knee Socks – River Island: £6
Beige Over the Knee Socks – River Island: £3
Black Leather-Look Block Heel Chelsea Boots – New Look: £24.99
Black and White Stripe Racer Back Vest – River Island: £10
MOTO Black Daisy Hotpants – Topshop: £22
Black Daisy Crochet Side Running Shorts – New Look: £14.99
White Short Sleeve Shirt – New Look: £12.99
Black Straw Pork Pie Hat – Topman: £14
Black Long Sleeve Military Shirt – River Island: £10
Black Patent Single Buckle Lace Up Boots – New Look: £12
Jumpo Black Leather-Look Biker Jacket – New Look: £21
Gold Tone Draped Curb Chain Necklace – River Island: £12
Gothic Cross Necklace – Topshop: £10
Gold Coin Drape Elasticated Headband – New Look: £5.99
Gold Tone Jewelled Hair Crown – River Island: £15
A key part of this look is the extravagant hair accessories – the girls wear some very pretty, draping jewellery crowns that are very in fashion right now. You can also go more formal with this look, by adding a black tie or less formal by throwing on a cool leather-type jacket.
The inclusion of black Chelsea boots or similar rounds off the look well, giving it an extra sense of edge. However, they are still feminine enough and not too clunky to be heavy or cause discomfort after extended periods of wear.
— Please search online for the suggested items, as many of the items are online exclusives! A list of the relevant websites can be found in the sources below this article! —
What do you think of this look?
Will you be trying it out this summer?
Let us know!
[Sources: New Look Website, River Island Website, Topshop Website, Topman website].