Super Junior M's Henry recently made a comeback with his single 'Fantastic'. We see him showing off his many amazing talents as usual. To get a more detailed look at the entire album, be sure to check out our recent 'Tune In' article on it.
Right now though, we are focusing on the clothing that Henry is wearing in the MV. Specifically, the more laid back and casual outfits. Keep reading to see how you can get this look on the British high street!
Remind yourself of Henry's style by watching the 'Fantastic' MV below:
Right now, many parts of the UK are experiencing a very hot, sticky and humid heat wave which even the most dramatic of thunderstorms cannot seem to shift. You may be looking at the suggestions right now wondering why on earth we are considering jumpers; however of course, knitwear is a great staple for everyone's wardrobe. In any case, buying a few winter items now is not a silly as it initially seems, and they will definitely see you through for a few winters to come.
The casual looks here are incredibly simple and in typical Henry style. White shorts with a black shirt and knee-high socks, and some interesting and fashionable jumpers. Top this look off with black converse trainers, some thick silver jewellery and you are pretty much there!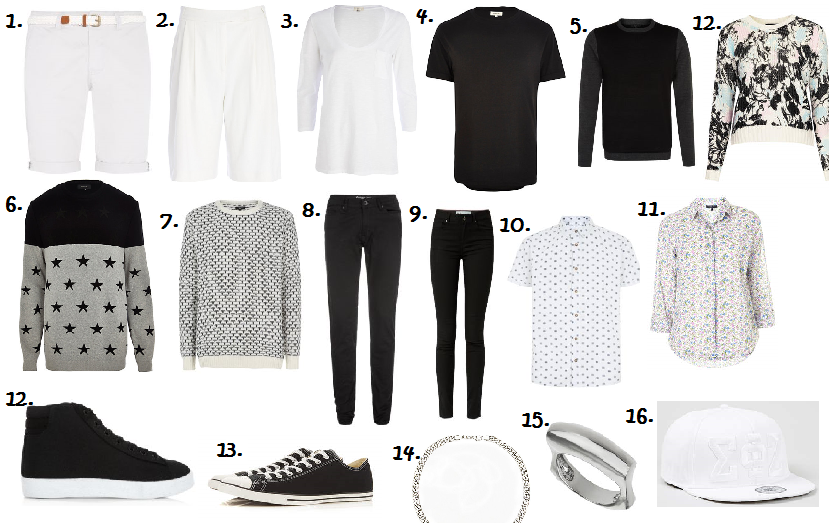 Men's Cream Belted Chino Shorts – New Look: £17.99
Women's White Soft Smart Long Shorts – River Island: £15
Women's White Low Scoop T-Shirt – River Island: £14
Men's Black Curved Hem Crew Neck T-Shirt – River Island: £10
Men's Black Contrast Sleeve Crew Neck Jumper – New Look: £14.99
Men's Grey Colour Block Star Jumper – River Island: £35
Men's Cream Wool Mix Textured Knit Jumper – New Look: £8
Men's Black Skinny Jeans – New Look: £17.99
Women's Black Skinny Jeans – New Look: ££12.99
Men's White Short Sleeve Tile Print Shirt – New Look: £14.99
Ditsy Floral Print Shirt – Topshop: £34
Chunky Floral Print Jumper – Topshop: £15
Converse Black All Star Lean Plimsolls – Topman: £45
Men's Silver Tone Curb Chain Necklace – River Island: £3
Curved Bar Ring – Topshop: £6.50
White Sigma Phi Zeta Snapback Cap – Topman: £16
To add a little interest to this plain look, Henry wears a patterned shirt under his jumper, this is a really easy way to add some detail to an otherwise basic outfit. It is also a great way to add a little flair whilst remaining understated. In other words, this look is perfect if you are not too loud in your fashion tastes, but still like to have something a little daring within your looks.
Knee-high socks are not included in the suggestions, but some quite cheap ones are available online on sites like eBay.
The great thing about these items is that they are all very versatile, so you can mix and match everything to constitute various different outfits. This also means more bang for your buck (…or more punch for your pound as the case may be).
Whether you are a guy or a girl, this style is sure to make you look 'Fantastic'! …Sorry, but that had to be done.
~ Remember to look at the respective online stores if you are interested in any of the suggested items! (Links below). ~
Please let us know your opinions on this look/article in the comment section below!
[Sources: New Look Website, River Island, Topshop Website, Topman Website].