For MV Monday today we are going to look at the use of the 'sexy concept', focussing on two examples from the past week that have had contrasting receptions. Both use females to display sexiness, though one is a female artist, one male: Move by 4L and Body Language by San E.
Setting the kpop world alight with controversy are girl group 4L, or Four Ladies, and their debut track Move. Called everything from disgusting to sluts for their mv, and having it referred to as pornographic to trashy, are 4L really doing anything different to the many girl groups before them?
Their choreography is really no more shocking that girl groups have displayed in the past: Miss A, Secret, Stellar.
Consensus is that 4L's mv makes the Stellar Marionette mv look tame, though break it down and the only reason that may seem the case is Stellar's choreography in majority faces away from the viewer, whereas t face the camera, seemingly making people believe the choreography is cruder.
The simple fact is the audience complaining about the 4L choreography are more than likely the same audience cheering on the male idols who do such similar moves.
Why is it more acceptable for Taeyang, Rain, Jay Park, even EXO to do similar floor-based choreo?
4L aren't even the first group to feature a lesbian couple, though admittedly have stepped their visual up a notch. Brown Eyed Girls' Abracadaba and San E's Story Of Someone I Know very much imply female/female pairings – all 4L have done is create the full visual.
Probably the reason Move is causing such controversy is that this mv includes strong, overt sexuality without reason or meaning. Move contains no real narrative, it is just a display of questionable sexiness.
—
San E's Body Language, in contrast, does use a narrative to back up its use of a sexy concept.
It was never a secret that Body Language was going to hold a 19+ rating, for content and visual.
The mv's narrative is based around San playing a video game, Body Language, in which he can control the video game graphics that present sexual, or fetishised, situations.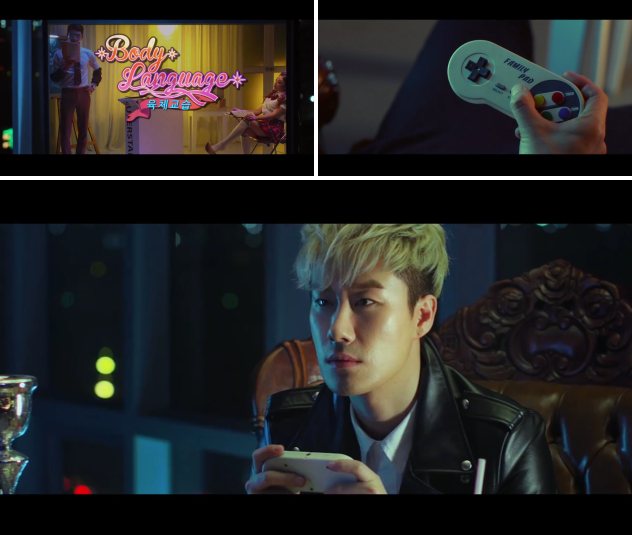 Amusingly we see TROY's Jaewoong, wearing one of his outfits from their Green Light mv, acting in a role one could consider a kind of fetish police. Jaewoong (in)conveniently interrupts the gameplay, arresting the male (credited only as Matt) and ending the scenes that San has controlled.
GAME OVER.
During his third and final game via Body Language he is disappointed to find the power cuts out on his games console, ceasing his game.
Though to his delight the girls featuring in the Body Language game (Han Song Yi, and Rock Chae Eun) are in fact real.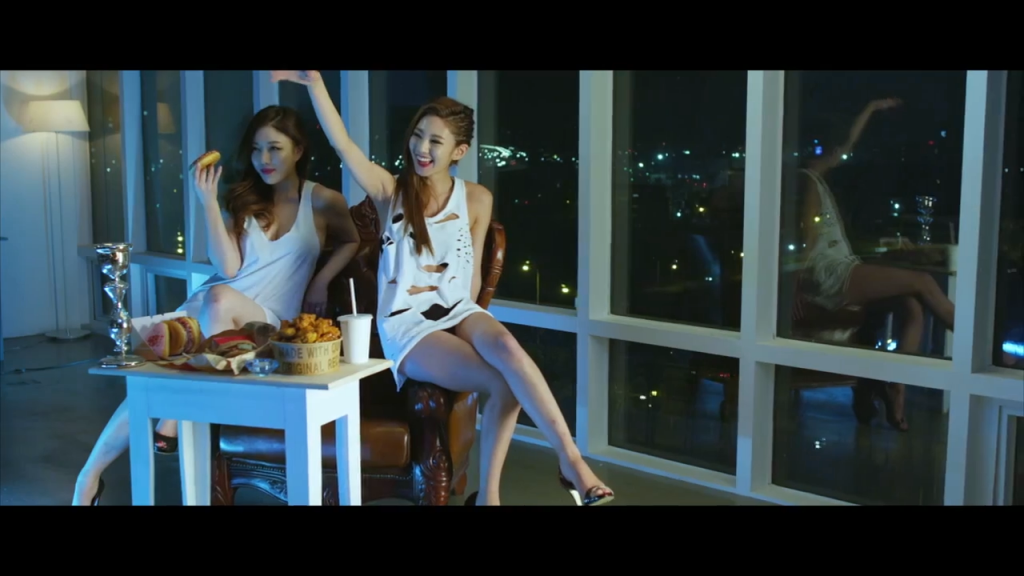 Though just after San's fun is about to begin his alarm sounds. He wakes, fancy clothing gone, furniture less elaborate, the remnants of food not as plentiful as they had been.
It had been San's imagination and dreams, satisfying at the time, now just frustrating.
—
A narrative does make a sexy concept more purposeful, but the question still stands, why do Kpop fans seem more accepting of male idol use of sexy concepts?
The content of this article may be similar to that appearing on the personal website of the writer