After quite a lot of speculation and waiting, a Crayon Pop sub-unit was finally formed! Strawberry Milk are a super cute duo comprised of twin sisters Way and ChoA. As you might have expected, their image is sweet, girly and…slightly strange. This 'Get the Look' will be looking at their debut MV 'OK'!
Take a look at the MV below!:
 You may be sitting there thinking "are you really going to suggest that I wear a strawberry dress with a giant fork stuck to the back?!" Well, no of course not! While there is nothing wrong with dressing like food or drink if you so wish to, this article is instead going to extract the more toned down style elements of this MV. Sorry Lady Gaga!
As with Crayon Pop, Strawberry Milk have a very colourful style that does not expose too much flesh. This makes it a very approachable fashion for many. This is also a look that you can adapt to suit your own personal style as most of the suggested items are widely available in various colours and prints.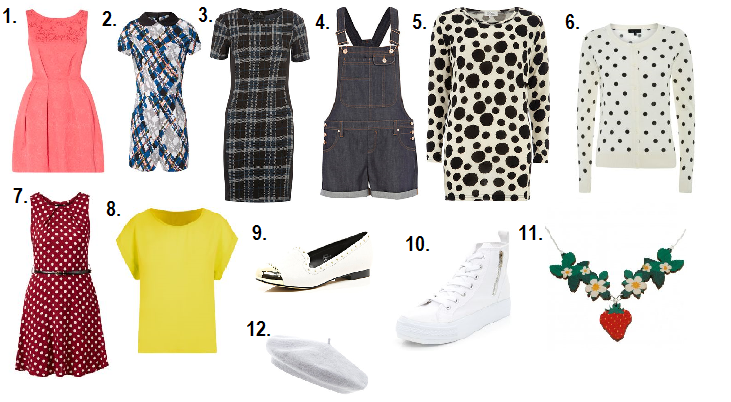 Closet Pink Jacquard V Back Pleated Skater Dress – New Look: £26

Belle Heart Blue Check Contrast Collar Playsuit – New Look: £14.50
Green Checked Ponte Pencil Dress – Dorothy Perkins: £25
Dark Wash Denim Dungarees – River Island: £12
Madam Rage Large Spot Knit Dress – Dorothy Perkins: £28
Monochrome Fine Knit Polka Dot Cardigan – New Look: £12.99
Burgundy Polka Dot Print Belted Skater Dress – New Look: £19.99
Yellow Plain Short Sleeve Top [Also available in colour Orange] – New Look: £12.99
White Studded Toe Cap Slipper Shoes – River Island: £30
White Zip Side Lace Up Chunky High Tops – New Look: £19.99
Punky Pins Strawberry Plant Collar Necklace – attitudeclothing.co.uk: £11.99
Light Grey Wool Mix Beret – New Look: £7.99
Strawberry accessories will probably call for more exploration online, but luckily there are a plethora of online stores that sell unusual, avant-garde jewellery and hair accessories. A few examples of these would be Attitude Clothing, Blippo and Rings and Tings.
So, get out there and explore your fruity sides!
| If you like any of the suggested items, please search for them in the respective online stores! Some can be online exclusives! |
[Sources: New Look Website, Dorothy Perkins Website, River Island Website].