Looking to celebrate the Korean culture? The Korean society at the University of Westminster's are hosting an evening to do just that! Experience an evening of activities and entertainment!
Whether you already love the culture, or wish to learn more, it's an event that promises to deliver. Stalls include: language lessons, origami Hanbok making, and even performances by K-Pop dance groups UJJN and Lucid.
The event will be held at the university's Cavendish campus (New Cavendish Street) on Wednesday 14th November. It is a free event, however, non-Westminster students must inform the society if attending. Full details are in the poster below!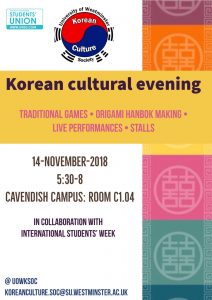 If you wish to attend the event, email the university's Korean society by Monday 12th November. Please include your full name, contact number and email. You can also contact them through Twitter and Instagram.
We hope everyone who attends enjoys themselves!