Last month Ed Sheeran revealed the possibility of a collaboration with BTS, and it looks like it's finally happening!
BTS' Suga shared a screenshot of a music file on Twitter earlier this week. The file is titled 'ED SHEERAN ST ROUGH'.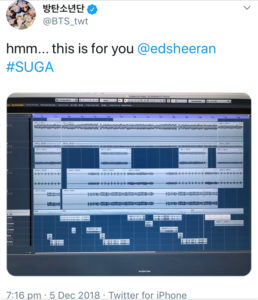 In an interview with Heat World, Ed Sheeran responded to tweets about him. One said, "I want BTS x Ed Sheeran but when will they ever."
Ed replied, "I actually wrote a song that I think they might be messing with. I heard this the other day. I don't know. I really like BTS though, I think they're great."
Suga's screenshot appears to be this very track.
It isn't the first time Ed Sheeran has praised the band. When BTS released IDOL in August, Sheeran took to Instagram to praise the band on their success.
Are you looking forward to their collaboration?