Welcome back to this week's Style Steal! And we're going to have a look at how to get the look of one of my new favourite songs – 2NE1's Come Back Home.
They wear a couple of different outfits throughout the MV, but I've chosen to try and copy the looks that were also mostly used for the promotional side for the MV and album. I've recreated a look for each member, so let's get to it!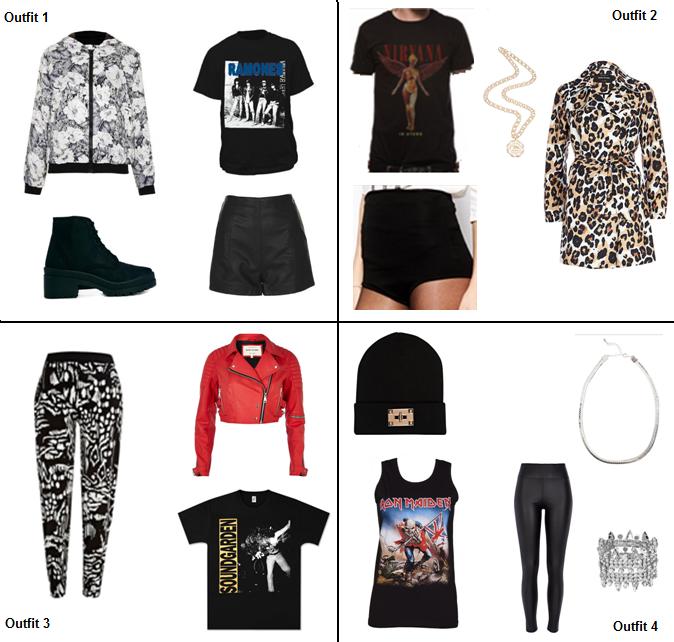 Outfit 1 is based on Bom's look, and as with the rest of the outfits, it has a generally pretty dark feel. To achieve this sort of look with a classic Bom-like vibe, match a graphic band t-shirt with a pair of shorts, add a monochrome patterned bomber jacket and some chunky ankle boots, and you're good to go!
Satin Floral Hooded Bomber – TopShop (£60.00)
Black High Waisted Shorts – TopShop (£30.00)
ASOS Radiohead Ankle Boots – ASOS.com (£35.00)
Ramones, Rocket to Russia – punkrockshop.co.uk (£11.99)
Outfit 2 is based on CL, and the obvious key point to this outfit is the leopard print outerwear. While it would be difficult to truly recreate the designer style she is wearing, you can simply find something in the same colours or pattern to achieve a similar effect. Pair it up with an edgy graphic t-shirt, some killer shorts and some CL-worthy gold accessories and you're done!
Brown Graphic Animal Print Trench Coat – River Island (£55.00)
Nirvana in Utero – Loudclothing.com (£11.49)
ASOS Ponte Knicker Shorts – ASOS.com (£12.00)
ASOS Elephant Coin Necklace – ASOS.com (£12.00)
Outfit 3 is modelled on Minzy's look, and the t-shirt is the exact same print! I think this outfit is the most fun from all the looks, as you have monochrome patterned trousers and a bright red jacket to add a real pop of colour to a pretty dark colour palette. This is a pretty comfortable looking street style outfit, and pretty easy to transition into everyday wear!
Soundgarden Louder T-shirt – bravadousa.com ($25.00)
Red Croc Panel Cropped Biker Jacket – River Island (£60.00)
Black and White Blurred Tribal Print Joggers – River Island (£20.00)
Outfit 4 is Dara's style, and it's pretty simple! True to Dara style, one of the key points has got to be the beanie! To achieve Dara's effortlessly boyish look, an over sized band t-shirt with some leather look leggings would do the trick nicely. Pair this with some chunky silver jewellery to give it an edge, and don't forget the hat!
Ladies Black Iron Maiden Trooper Skinny Vest – truffleshuffle.co.uk (£19.99)
Black Coated High Waisted Leggings – River Island (£22.00)
Black Twist Lock Beanie Hat – River Island (£7.00 on sale)
New Look Sparkle Stone Stretch Bracelet – New Look (£9.99)
Susan Caplan Vintage Exclusive for ASOS Flat Snake Chain Necklace – ASOS.com (£12.00)
Have you seen the MV? If not, check it out below!
https://www.youtube.com/watch?v=vLbfv-AAyvQ