This week's Style Steal is going to be about how to achieve the quirky look from 4Minute's new MV, Whatcha Doing' Today!
There are a few different looks in this MV; a metallic look, pyjamas, and different outfits with floral patterns and embellishment, sequins, and more PU than I've seen in a while! But I won't lie, the metallic style in this MV is my favourite, so that's mostly what I'm going to show you how to recreate today! Let's get to it!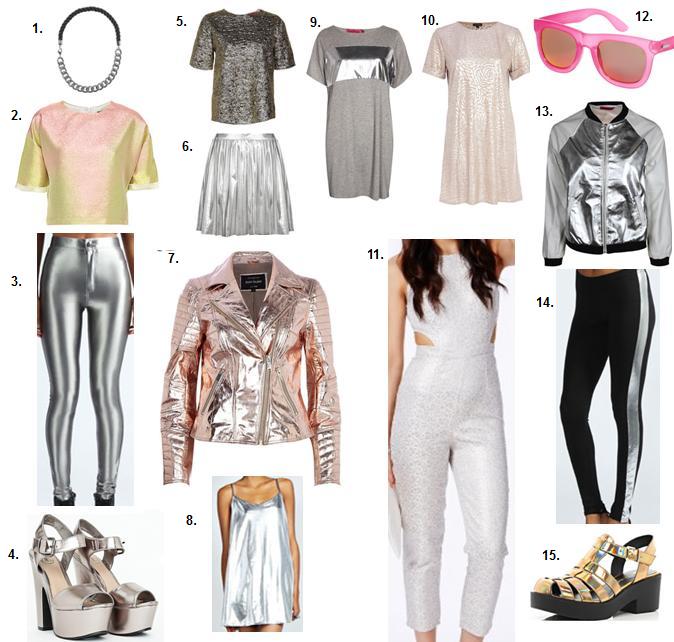 (Clothing in picture information can be found at the bottom of the post)
So, even though a whole range of colourful metallic clothing was worn throughout the MV, I've stuck to a light colour spectrum, mostly going with light pinks, different hues of silver and the odd dash of gold. These colours are easily broken up if you want a less full-on metallic style, and to do this I would recommend choosing one key piece and then pairing it with either grey or white clothing to tone it down.
Metallic trends are always pretty full-on, but if you don't feel like an entirely metallic skirt or jacket is quite your style, then tone it down even further! You can still emulate the Whatcha Doin' Today vibe by wearing metallic embellished clothes, shoes or even just keeping it to a real minimum with metal accessories. This look can be pretty versatile when you begin to dilute it, but the most important thing to do with it is just have fun!
Until next time!
Lizzy Necklace – Monki (£10.00)
Shimmer Reverse Seam Tee – TopShop (£45.00)
Ellie High Waisted Pocket Back Disco Pants – Boohoo.com (£10.00 in sale)
Augustina Metallic Platform Sandals – Missguided.com (£32.99)
Eliie Metallic Jacquard Shell Top – Boohoo.com (£10.00 in sale)
Titanium Skirt By The Ragged Priest – TopShop (£45.00)
Rose Gold Metallic Leather Biker Jacket – River Island (£140.00)
Fiona Metallic Strappy Swing Dress – Boohoo.com (£10.00 in sale)
Katie Metallic Sweat Tee Dress – Boohoo.com (£10.00 in sale)
Light Pink Metallic Shift Dress – River Island (£35.00)
Matyle Cut Out Jumpsuit In Metallic Print – Missguided.com (£39.99)
MinkPink Say Anything Sunglasses – ASOS.com (£26.00)
Sarah Metallic PU Sleeve Bomber – Boohoo.com (£25.00)
Frankie Metallic Panel Leggings – Boohoo.com (£6.00 in sale)
Gold Metallic Block Heel Gladiator Sandals – River Island (£40.00)