Welcome back to this week's Get The Look! Today we're going to take a look at how to achieve some of the style worn in Hyosung's new MV for Good-night Kiss. Leggo!
There are two fairly distinctive styles worn in this MV: a vampiric, Victorian look with bold colours and black, and then a more modern sexy style. Seeing as we're coming into summer now, I figure the Victorian look will probably be a little inappropriate to try to incorporate into our wardrobes, so the more modern style it is!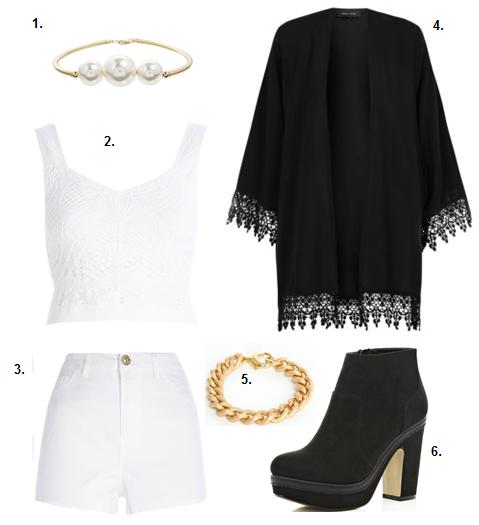 This look I chose to replicate is the one that she wears during the dance sections of the MV and was also used for some of the teasers. Kimonos and crop tops are very in fashion in the UK right now so you can get hold of them pretty easily from a lot of shops, which is always a bonus! This particular look is quite bold, so you could always tone it down by wearing a longer t-shirt or a pair of jeans instead of shorts, but to keep it true to the original look, keep things monochrome with gold and pearl accessories!
1. Limited Edition Big Faux Pearl Choker Necklace – ASOS.com (£12.00)
2. White Crochet Crop Top – River Island (£25.00)
3. White High Waisted Stretch Shorts – River Island (£25.00)
4. Black Crochet Hem Kimono – New Look (£19.99)
5. Jilitea Chunky Chain Bracelet – Missguided.com (£5.99)
6. Black Platform Ankle Boots – River Island (£25.00 on sale)
Alright guys, see you next time!