Many of the Get the Looks we feature often cater to a more female audience with the odd item suited towards males. However this time around, we are giving the boys a chance to shine using Super Junior's Donghae and Eunhyuk's 'Growing Pains' MV as our source of inspiration!  (Girls, you can still wear this stuff though of course, but pretend this is just for the guys – shh!)
In this emotional video, we see the two members of Super Junior sporting a very stylish formal look, alongside some more casual clothing.
A lot of these items are more on the expensive side, but these are mostly very durable and versatile pieces that you can mix and match to make up various different outfits. The jackets suggested will likely last you quite a while provided that you care for them well enough. They are also able to keep you warm, even if you sling them over a light, summer-style outfit as the warmer months come in.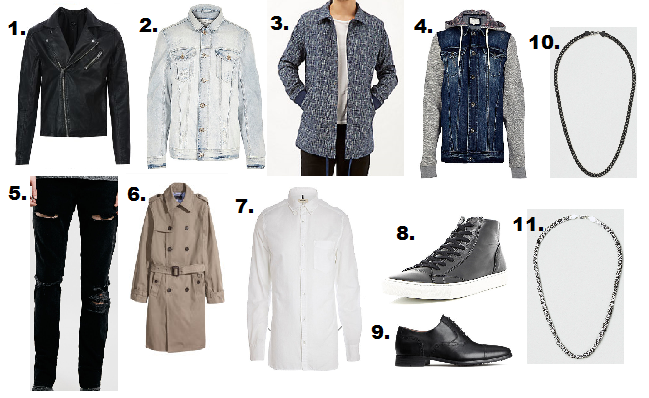 Black Asymmetric Biker Jacket – New Look: £44.99
Blue Wash Fade Denim Jacket – River Island: £50
Blue Printed Longer Length Coach Jacket – River Island: £55
Mid Wash Jersey Sleeve Hooded Denim Jacket – River Island: £15
Black Blow Out Knee Classic Skinny Jeans – Topman: £45
Trench Coat – H&M: £69.99
White Oxford Shirt – River Island: £25
Black Leather Lace Up Hi Top Trainers – River Island: £55
Black Leather Oxford Shoes – H&M: £39.99
Matt Chain Necklace – Topman: £8.50
Aztec Print Snake Chain Necklace – Topman: £10
Of course, the more formal shirt would not be complete without the addition of a tie, but the rest of the items would be easily finished with the addition of some casual-looking jewellery and some cool high tops or boots.
So, follow Donghae and Eunhyuk's lead and get warm and fashionable at the same time!
|| All suggested items can be found in the respective online stores. ||
[Sources: New Look Website, River Island Website, H&M UK Website, Topman Website].