We said goodbye to the characters of Cheese in the Trap only weeks ago. The final episode may have sparked an uproar in response but surely we can all agree that they got one thing right… style! We have collected some Spring essentials in the style of the three main female characters to inspire your wardrobe this season.


Hong Seol (Dog Fur)
College Campus Look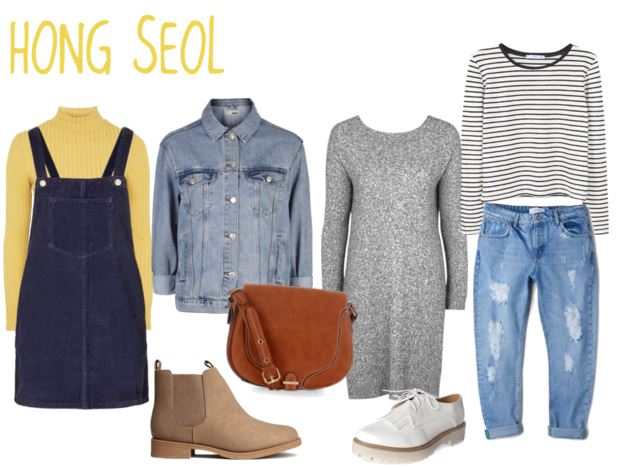 Seol's style has crept its way into our wardrobes since the first episode. We started borrowing colour from her autumnal palette then next we notice we're head to toe in Seol-style, starting with the mustard sweater all the way down to the oversized socks and chunky boots. We couldn't forget her signature mustard sweater which has made an appearance in her Spring-inspired look along with her pinafore/dungaree staple. To keep the outfit light for the warmer weather, swap the mustard sweater for a lighter sweatshirt and pair with a cute pinafore. Match a slouchy dress with an oversized vintage style denim jacket and add a stylish pair of chelsea boots to complete the look. For total Seol-style, don't forget the thick socks! Especially during those colder Spring days. Team a loose striped t-shirt with ripped jeans and comfy brogues for that casual, college look! Don't forget your lion mane hair style for the ultimate Seol style steal.
Striped Long Sleeved T-Shirt – £9.99 at Mango.
Boyfriend Jeans £39.99 at Mango.
90s Slouchy Dress – £36 at Topshop.
White Lace-Up Brogues – £25 at Glamorous.
Brown Saddle Bag – £25 at Accessorise.
Chelsea Boots – £25 (Black or Brown) at H&M.
Oversized Denim Jacket – £45 at Topshop.
Cord Pinafore Dress – £39 at Topshop.
Yellow Ribbed Sweater – £16 at Topshop.
Baek In-Ha 
Glamorous Chic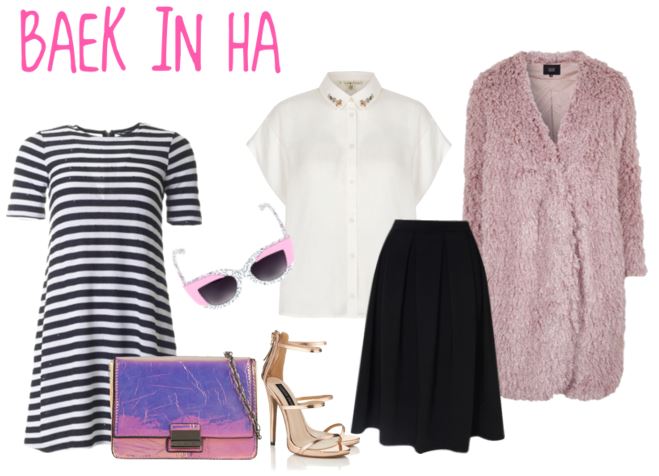 Baek In-Ha's style is as crazy as her character. Organised chaos with splashes of bright colour and bold prints. For this look, you can tone it down for with a simple shirt and skirt combination with a couple of In-Ha touches. Think glitter, metallic and sparkle when piecing together an In-Ha inspired look. For Spring, add a holographic shoulder bag to really make an outfit pop. Add a pastel faux fur coat over the shirt/skirt co-ord for instant glam and match with a pair of tall rose-gold stilettos for In-Ha approval. Her character is very money hungry but you can replicate her high-end style with high-street prices. You can find an almost similar sequined striped dress that matches the one In-Ha wears on the show! Slip into a pair of heels, add a pair of OTT cat-eyed sunglasses and you'll be sorted for Spring!
Aviation Faux Fur coat £39 at Topshop.
Uttam Boutique Embellished Collar Shirt £40 at House of Fraser.
Black Pleated Midi Skirt  £26 at Glamorous.
Lazy Oaf x Poppy Lissiman PASQUIER 2.0 £48 at Lazy Oaf.
Rose Gold Multi Strap Heels £30 at Lipsy.
Two-Tone Beetle Shoulder Bag £34 at SkinnyDip.
Striped Sequin Dress £22.50 at French Connection.
Jang Bo-Ra
Cute Preppy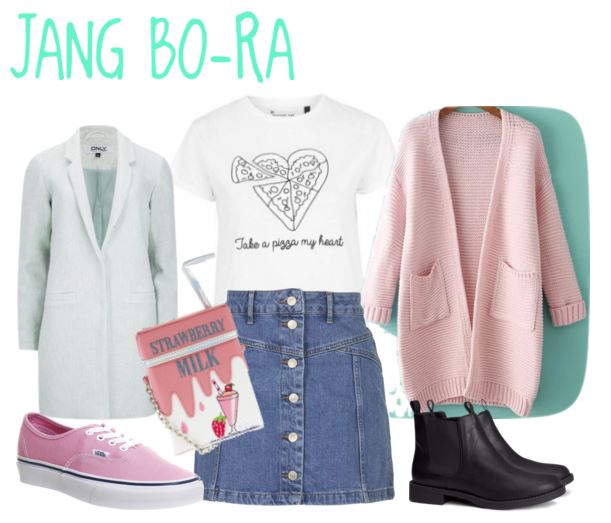 Bo-ra's style evolved through the show as her attraction and love for Eun-taek blossomed, so did her wardrobe! The greys were out and the pastels were in! This is a perfect Spring look to banish the Winter blues. Bo-ra is the princess of preppy, she owns several bomber jackets, plaid skirts and collared shirts under baggy jumpers. Take inspiration this season by finding a t-shirt with a cute slogan or motif and teaming it with high-waisted skirt. Denim is still hot this year so don't be afraid to bring out your Winter skirts for this look. Throw on an oversized knitted cardigan or a light jacket in a cute pastel shade and match with pastel trainers or chunky boots. If you adored Bo-ra's novelty milk carton bag, you can grab a Stawberry version at Accessorise!
Pink Knit Cardigan £18.91 at Romwe.
Chelsea Boots £25 at H&M.
Button Through Denim Skirt £29 at Topshop.
Tee and Cake Pizza My Heart T-Shirt £22 at Topshop
Strawberry Milk Bag £35 at Accessorise.
Mint Green Spring Coat £25 at The Hut.
Pink Vans Shoes £25 at Office.
Which style will you be inspired by this Spring? Seol's casual street style, In-Ha's bold elegance or Bo-ra's sweet pastel look? Let us know in the comments!