Following on from our fashion picks of Spring article, we've collected many high-street steals and pieced them together to create four hot, on-trend looks for the season!
1. Casual Street Style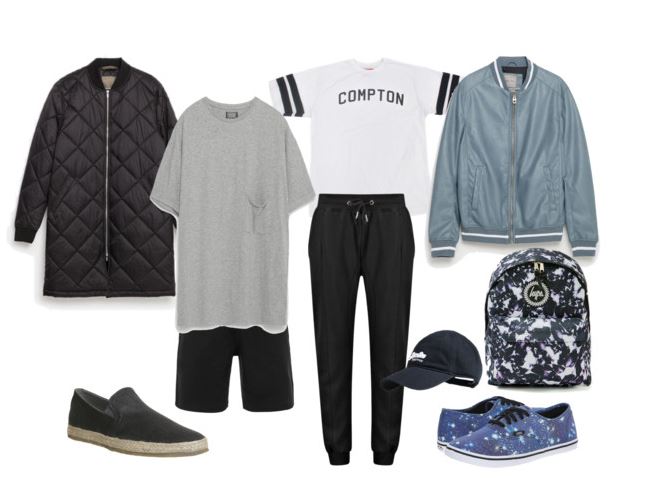 We've taken the very basics of the trends in Korean fashion this Spring and created two interchangeable looks for the fashion-conscious man. You can be on-trend this season by adding a bomber jacket to match a pair of loose-fitted trousers and a trusty pair of trainers. Straight off the runway, the bomber jacket has been customised by both high-end and high-street brands. You may be lucky to snag a vintage souvenir jacket but you could be breaking the bank and paying up to £500 for an authentic silk piece. You can walk into any store on the high-street and be able to grab an equally eye-catching style for a fraction of the price. Street style is huge again this year, so consider replicating Korean sport styles into this look by adding a baseball cap, sports bag or running trainers. We've gone for a brighter pair of shoes to add a striking print to a monochrome look. If you're feeling confident, switch out the casual jacket for a suited, mature quilted bomber coat and match with a lazy under look of a baggy t-shirt and loose shorts. The key to this look is a bold, monochrome palette with splashes of exciting print and a bomber jacket in a contrasting style.
Long Bomber Jacket – Zara £59.99
Oversized Grey Top – Zara £18
Black Jersey Shorts – Topman £25
Espadrilles – Office £35
Compton Varsity T-Shirt – Karmaloop.com £15
Slouch Joggers – Topman £15
Faux Leather Bomber Jacket – Zara £49.99
Printed Backpack – Topman £15
Black Cap – Superdry £15
Vans Authentic Shoes – Vans £22
2. Sweet Vintage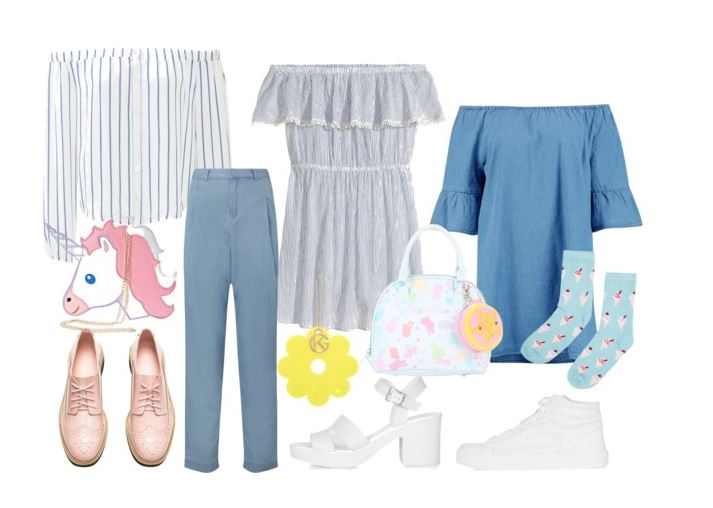 For a sweeter spring look, think pastels! This may be an obvious colour scheme for the blossoming Spring season but with the focus heavily on monochrome pieces, it is refreshing to see vintage patterns and pops of pastel. This is a sugary-sweet look for those who gravitate more towards classic styles and brighter colours. You can still be on-trend without having to sell your fashion soul to the dark side of monochrome and street-style fashion. We have already commented on the structure of the off shoulder look that many idols, models and celebrities are drooling over. Here, we have three simple outfits incorporating the bare-shoulder trend. For a more sophisticated look, we've added a striped shirt with a sharp straight cut across the shoulders, pair this with tailored chinos in whatever pastel shade you can and match with a smart pair of brogues for this polished look. The unicorn bag is just for a bit of extra fun! Added frills to off-shoulder pieces really create a classic aesthetic. You can find many ruffled and frilly items on the high-street this season so you can recreate Korean fashion on a budget! Add a pair of bright, white sandals for romantic flair or contrast the classic style by throwing on a pair of high-tops and printed socks for a street-style inspired outfit. The Sailor Moon bag is the perfect pastel addition to a toned down denim dress and trainers ensemble. Customisation is key with this look. Keep the outfit laid-back and add pops of pastel print and floral patterns. Add a floral charm to a well-worn outfit to really reinvent it this Spring.
Striped Shirt – RentTheRunway.com £21
Soft Chinos – John Lewis £30
Unicorn Bag – Dollskill £27
Pink Brogues – H&M £24
Casual Blue Dress – H&M £15
Flower Charm – Kurt Geiger £12
Heeled Sandals – Topshop £29
Sailor Moon Character Handbag – Hottopic £11
Off Shoulder Denim Dress – Boohoo £15
Ice Cream Socks – Accessorize £4
Hi-Top Trainers – Topshop £26
3. Monochrome Street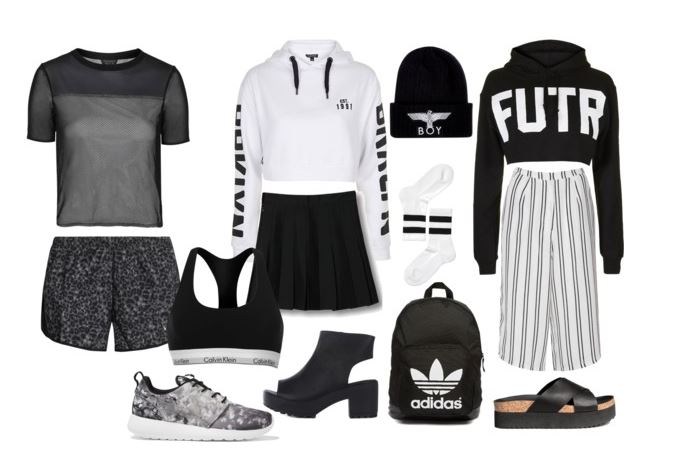 This look screams K-Style in every detail. Think fierce and confident when applying this look into your wardrobe. The basics are the focus of this look, the absence of colour is really on-trend so be sure to keep it monochrome to keep it on-trend. Every piece can be shuffled around to create entirely different looks and the impact is through the attitude of street-style. For a look that has literally taken off the runway, take a cropped hoodie or sweatshirt and add high-waisted culottes or a tennis skirt. These striped culottes are perfect in achieving a casual street look. For inspiration, look no further than Topshop who have an abundance of sporty pieces in stores this season. A laid-back look would not be complete without a pair of wedge slip on sandals. These are so hot right now and are perfect for warmer Spring days. The cropped sweatshirt look is a staple this season but so are sports bras. Odd perhaps but many idols opt for the revealing under band of a sports bra or crop top underneath a cropped sweatshirt. This may not be practical for everybody so you can add a mesh shirt as an overlay. For lazing around at home or heading to the gym, grab some loose shorts and pair with monochrome trainers. These greyscale canvas Nike trainers are a beautiful print to add to a washed out look. If you'd rather polish the outfit off with a pair of boots, attempt to go peep-toe to contrast the look. For the idol-look add sport socks and a structured beanie to any of these looks and you'll be in character.
Mesh T-Shirt – Topshop £28
Leopard Print Shell Shorts – Nike £30
Calvin Klein Bralet – Vanmildert.com £22
Printed Canvas Trainers – Net-A-Porter.com £70
'Brklyn' Hoodie – Topshop £29
Black Tennis Skirt – American Apparel £30
Faux Leather Peep-Toe Boots – PrettyLittleThing.com £15
Boy London Beanie – Selfridges £35
'Futr' Hoodie – Topshop £30
Sport Socks – Monki £5
Adidas Backpack – JDSports £22
Striped Culottes – Glamourous.com £33
Platform Sandals – H&M £11
4. Souvenir Staple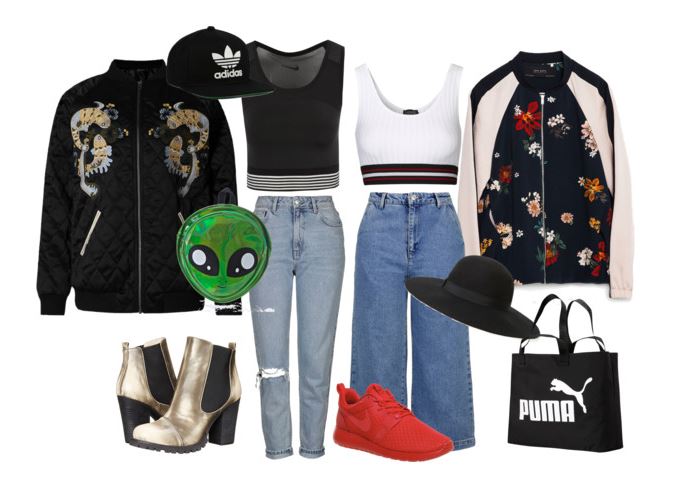 Here is where the fun begins. Souvenir jackets. Thankfully, they have been dispatched closer to home since their initial booming success in Asia. Off the runway and onto the high-street, we've got you covered on how to style these intricately printed jackets into everyday looks. These two looks channel every style steal in Korea at the moment: cropped sportswear, souvenir jackets, denim. You can tick every box with either of these outfits. Marks and Spencer have alluded to the traditional elements of the souvenir jacket by embroidering a golden design on the breast of the coat. Pair with a cropped tank a pair of ripped jeans for a casual look. A baseball cap adds another street-style element to the on-trend outfit and you can even wear it backwards like all the cool kids do. Think 4Minute for this look especially Hyuna who screams cool kid with her street appeal. The best bit about this outfit is the transparent alien backpack. It's reminiscent of those plastic backpacks we used to wear in the 90s. Not essential but a lot of fun. This style-steal can be customised by adding metallic splashes and with this look in particular, it really compliments the design on the jacket. The next souvenir jacket you can snatch for a bargain on the high-street is a floral design in the signature silky material associated with the vintage jackets. Underneath, you can match it with a sporty crop and pair it with flared denim culottes for an edgy contrast. The bold red trainers are a snazzy accessory to this look but you can add any trainers to carry the sporty vibe throughout the outfit. From head to toe, this outfit is a hot mess of style. Throw on a wide-brim fedora to really spice things up.
Quilted Oriental Bomber Jacket – M&S £65
Adidas Snapback – Urban Outfitters £23
Nike Black Motion Top – Liberty London £38
Alien Attack Backpack – Dollskill.com £27
Chinese Laundry Gold Boots – 6PM.com £25
Bleached Ripped "Mom" Jeans – Topshop £42
Printed Bomber Jacket – Zara £49
Sporty Rib Bralet – Topshop £15
Floppy Fedora Hat – Warehouse £5
Denim Culottes – Topshop £36
Red Nike Trainers – Office £80
Puma Shopper – Puma £13
This Spring look book is a collection of inspiration from Korean fashion picked from stores and sites that you can order from here in the UK. Which outfit do you like best? Let us know in the comments!