The soloist has been active in the Korean music industry for a decade, having gone through several transitions of being a member of the Wonder Girls the 4Minute before she embarked on a solo career on the side. Then, of course she had joined forces with fellow labelmate Jang Hyunseung, the other half of Trouble Maker in 2011 then the duo reunited once again in 2013. With the global hit 'Gangnam Style', she made a cameo in the M/V which allowed herself to be able to promote herself through a wider audience outside of the K-Pop fandom.
In further news related to collaborations, she has also worked with Pentagon members Hui and E'Dawn for Triple H this year. The latter's debut album which was released in May had also gained success on the UK charts, which you can read more about here.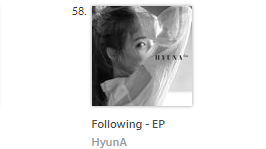 Hyuna has certainly gained a successful reputation through her confident performances on various stages over the years and on August 29 she returned with her 6th Mini Album 'Following' which peaked at #58 on the UK charts!
If you haven't already, you can buy her latest album on iTunes here for £2.99 and you can stream it on Spotify too. It's still doing well on international charts too, especially given she's shown a different concept this time around which you can see in her title track M/V 'BABE' which you can watch below!