The Pledis boy group, who debuted back in 2012 have been currently promoting as a 4 member unit since their appearance on Produce 101: Season 2. They returned back into the public eye with their single 'If You' on July 25 which earned them their first #1 on various local charts!
Following this success, they've made a swift U-Turn back into the game with their 1st Mini Album 'W,Here' today. NU'EST's title track 'Where You At' grabbed their first #1 on the MelOn chart, which is just a taster of the insane growth of their fanbase on a domestic scale. They had their first entry into the UK iTunes Album chart at #172 and have been steadily on the rise to their current peak at #89!
You can check out the M/V for 'Where You At' below, it's great to see them get a high quality video with beautiful sceneries! Certainly it could be said that the risk they took earlier this year had paid off with their prospects consistently on the rise! If you haven't already bought the album, you can get it for £2.99 on iTunes here!

[UPDATE 11/10/17]
NU'EST W have officially debuted at #49, which is a very successful debut on the UK iTunes Album Chart – and that makes it even more special! Congratulations to the boys for this achievement and to their fans (L.O.Λ.E's) for their continued support!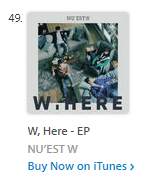 ---