Purple Kiss are a seven-member group from RBW Entertainment, being the agency's second girl group after MAMAMOO's debut nearly seven years ago. After much anticipation, the group finally made their official debut on 15th March with their EP 'Into Violet' and lead single 'Ponzona'.
The group consists of members Park Jieun, Na Go Eun, Dosie, Ireh, Yuki, Chaein and Swan. They are considered to be a self-producing group, with the members being credited for the group's song writing and choreography.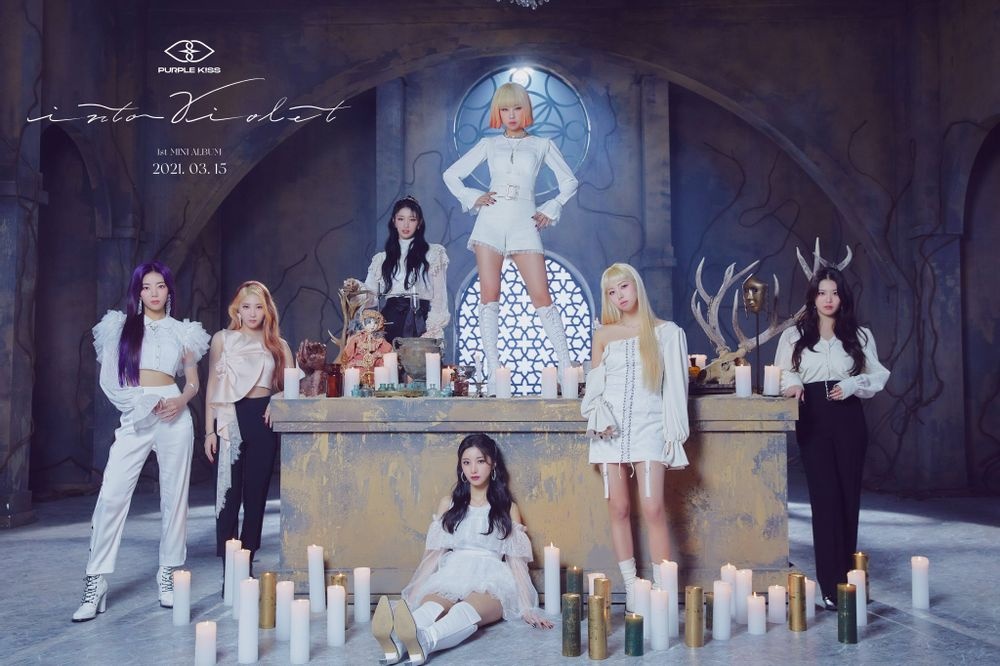 The group's official debut had been teased throughout the second half of 2020 with multiple different teaser materials. The months of pre-debut activity consistently built up the anticipation for RBW's newest girl group, without relying on their reputation and the popularity of their other groups. The strong marketing helps create an enthusiastic fanbase, while also slowly assisting their rookies with becoming accustomed to idol life.
In March 2018, RBW used 365 Practice (a YouTube channel, later renamed to PURPLE KISS) to showcase their female trainee's practices while also giving an insight into their daily lives. This channel allowed viewers to be introduced to all seven members of Purple Kiss, alongside other trainees who were not included in the group's final line-up.
The girls have had a bit more practice than most rookies with performing on stage, in May 2019 365 Practice held their mini-concert 'All-Ways' in RBW Art Hall to celebrate reaching 100,000 subscribers on YouTube. This experience has already benefited their debut, as you can already see their confidence and strong stage presence in their music show performances.
In the later years of their trainee days, several members participated in numerous music projects as featured artists, and the entire group also appeared as dancers in their Sunbae's ONEWE's 'End of Spring' music video, alongside label mates ONEUS.
Kdrama enthusiasts might already be familiar with the soft vocals of Goeun, who released the single 'Fly' for the OST of the drama Possessed. Fans of the popular and talented soloist Chungha might also recognise Swan and her unique vocals – the video of her recording the guide track for Chungha's 'Snapping' gained a lot of attention online and already has over 1.4 million views. Variety show followers might already know Chaein, who appeared on K-pop Star season 1 and 3. Also members Jieun and Goeun, who appeared as contestants on Mnet's survival show, Produce 48. Member Dosie also participated in the survival show, JTBC's Mix Nine.
Once the trainees had already made a name for themselves, a debut trailer for Purple Kiss was released on 19th June 2020 on 365 Practice's channel. This revealed the final line-up through individual music video trailers, introducing each member from 20th July till 1st August. Then finally, a group trailer on 3rd August 2020. The individual member reveal videos allowed fans to learn their positions in the group and get a feel for each member's distinct personalities and charms.
Similar to their agency seniors MAMAMOO, Purple Kiss teased their debut with two very different pre-release singles, 'My Heart Skip A Beat' on November 26th 2020 and 'Can We Talk Again' on February 3rd 2021, both later being featured on their debut EP. Purple Kiss' pre-debut activity also included vlogs, dance covers, song covers including a Disney princess medley.
The girls set a high standard for their eventual debut with a glimpse into their talent with the pre-released singles, impressing netizens and already creating an international fanbase.  'My Heart Skip a Beat' was the first pre-released digital single with six members in November 2020. Swan didn't participate in this release due to a temporary health-related hiatus. This rock and trap infused track raised the bar for their future activity. Member Yuki was credited for lyrics, and the music video and performances featured choreography created by the members.
The groups second digital pre-released single, 'Can We Talk Again', was released in February 2021, featuring all seven members. Yuki, as well as fellow member Chaein, participated in writing and composition. This R&B track was more subdued with a soft and moody tempo. Yuki's rap worked really well in this style and the vocals were captivating, complimented by the stunning visuals of the video, created an effective release. A complete polar opposite in sound and style to their previous single, but still carried a darker and edgier mood that hinted at their debut concept and the desired vibe of the group.
Finally, after much anticipation and build up, the day of their official debut and the release of their mini album 'Into Violet' on 15th March 2021, arrived.
Purple Kiss' mini album 'Into Violet' consists of 7 tracks, with members being credited for song writing – including their lead single 'Ponzona' and both pre-released singles, 'My Heart Skip a Beat' and 'Can We Talk Again'. The EP starts with the 'Intro: Crown', setting the tone for their debut concept. The song has a dark and mysterious vibe, featuring EDM and slightly distorted vocals that were over too soon. Although an appropriate length for an intro track, I would have loved to have heard this as a full-length song. The performance video visuals enhance the sound and darker concept, with the mysterious melody smoothly transitioning into 'Ponzona', their title track for their debut.
Ponzona (poison in Spanish) is packed with power vocals and fierce attitude. I was impressed to discover that Goeun, Swan and Yuki wrote this song as a trainee evaluation and it was later chosen to be their debut title. The haunting percussion and strings give off an eerie feeling which compliments the lyrics and dark atmosphere created in the video. The song is captivating, with a more mature sound that still manages to stay mysterious and edgy with stunning vocals.
The video is packed with visuals, impressive sets and powerful choreography! Whilst watching the music video, the members came across so natural and professional as if they had filmed in front of the camera hundreds of times before. I had to keep reminding myself that this was in fact a rookie group's debut!
They embraced, but also put a sinister twist to, the overused concept in rookie music videos – conquering the world with their music. The overall concept of the video is eerie and ominous, reflecting what could easily be a page right out of a Grimm's fairy-tale book. At first glance, the members (Ireh, Dosie and Goeun) appear to be trapped and alone in their individual scenes, all in white outfits depicting a textbook image of a damsel in distress. However, the true narrative eventually emerges; the girls aren't trapped awaiting rescue, they are waiting for victims to fall into the trap they have set. The continuous flashing lights and quick scene changes heighten the viewers confusion and feeling of being trapped, much like those in the video. The inclusion of the spiders also added to the creepy vibe, I especially liked Jieun's shot with the spider and catching hints of them on the members hands and along the walls. The spider imagery supports the hidden twist in the video – ensnaring and the entrapment of their prey. The choreography reflected the concept and was a perfect blend of intense and sultry. I also enjoyed the added dance break to the video as it showed off more of the girl's attitude and talent while still remaining captivating.
'Skip Skip' and 'Hello' don't have the same dark feel, contrasting with the other songs on the album. 'Skip Skip' is full of energy with a hip-hop beat which is playful and incredibly catchy. The harmonisations among the vocal-line were flawless and the rap-line were consistently strong. 'Hello' has a softer pop ballad sound, simple in production but this track really showcases the talent of their vocalists – the style really suiting Swan, Jieun and Goeun's vocals.
Closing the EP is 'Period' – an easy listening ballad with a soft and calming melody. Another song that was written by the members, showcasing their incredible talent and ability. The vocals are predominantly memorable in this track, with Swan's unique voice creating chills. It seems to be the standard for most pop albums to end with a ballad or soothing melodies, and this song in particular is a perfect end to Purple Kiss' debut mini-album.
Overall, 'Into Violet' is a strong debut mini-album. However, it does fail to stay consistent, jumping between sounds and genres. The musical style varies between songs, not always fitting the overall dark production the group seemed to be aiming for. But the whole album stays enjoyable and each song separately stands strongly, while also showcasing the group's musical versatility.
Their debut showcase and stages have also been well received by their fans and they already have a powerful and energetic stage presence, showcasing their live vocals and capabilities as performers. This was a promising debut and I look forward to seeing what they release in the future.
Purple Kiss definitely raised the bar with this debut and it's an intimidating thought that they can only continue to improve from here.
Check out their most recent release, a collab with Lulupop. A sweet and cuter concept to their previous releases, with a warm and pastel feel, again highlighting their versatility.
They are continuing to prove that they are rookies to watch this year and they already have a lot of content on YouTube to assist anyone wanting to fall further into the fandom!
For more talent endorsed videos, be sure to check out their 'PURPLEMANCE' playlist which includes their Disney Princess song medley, song covers and dance covers from popular groups like BTS, BLACKPINK, TWICE and NCT U.
Or to learn more about the members and get an insight into their group dynamic you can watch the short but sweet P.P.T (Purple Kiss Play Time) videos.
If you want to follow Purple Kiss on social media you can find them on Twitter, Instagram, Youtube, Tiktok and V-LIVE.
What did you think of Purple Kiss' debut song and mini album? Let us know in the comments!