One of the most common phrases in K-pop, 'pathed the way' or the question of 'who pathed the One of the most common phrases in K-pop is 'pathed the way' or the question of 'who pathed the way?' This has been discussed a lot over the past few years on social media, with many quoting some of K-pop's most popular third and fourth-generation K-pop groups as their picks for who pathed the way.
However, K-pop has various elements, from genres to dance to different languages. No one group can be responsible for pathing the way. In today's article, we will kick off part 1 of our 2-part series as we investigate all of K-pop and Korean music's most influential figures from the pre-2000s whose hard work and dedication created the genre as we know it today.
The Kim sisters: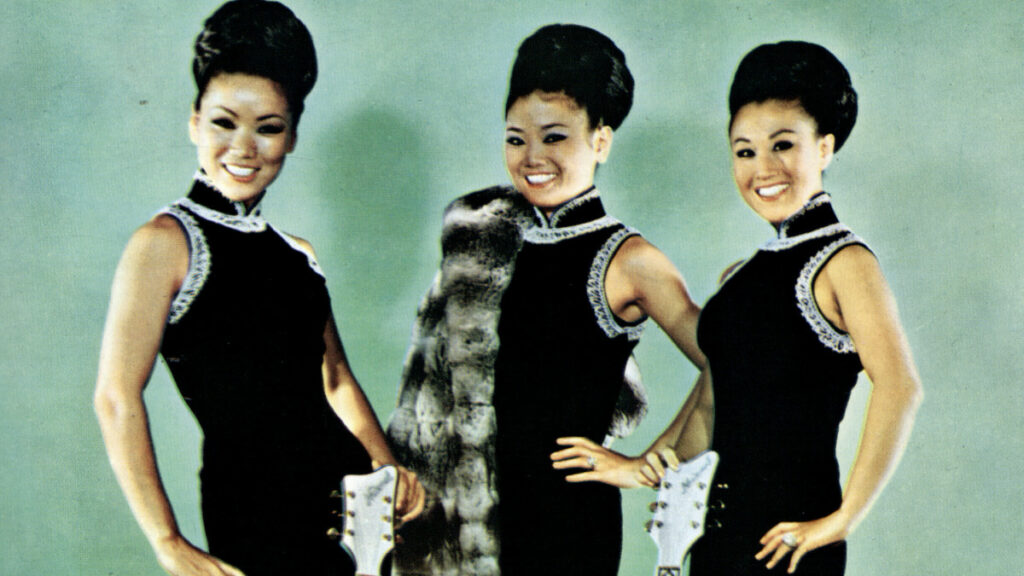 Not only Korea's first-ever successful International musicians but celebrities. The Kim Sisters put Korea on the map during the 1960s. First performing at U.S. Army camps in Korea during the Korean War, they would shortly move to America. Where they would perform on various American shows, becoming one of Las Vegas's hottest attractions performing 6 days a week. They became the blueprint of success for Korean and Korean-American artists to come. It is impossible to talk about the success of Korean music in America without talking about The Kim Sisters.
Read more about The Kim Sisters here!
Seo Taiji and Boys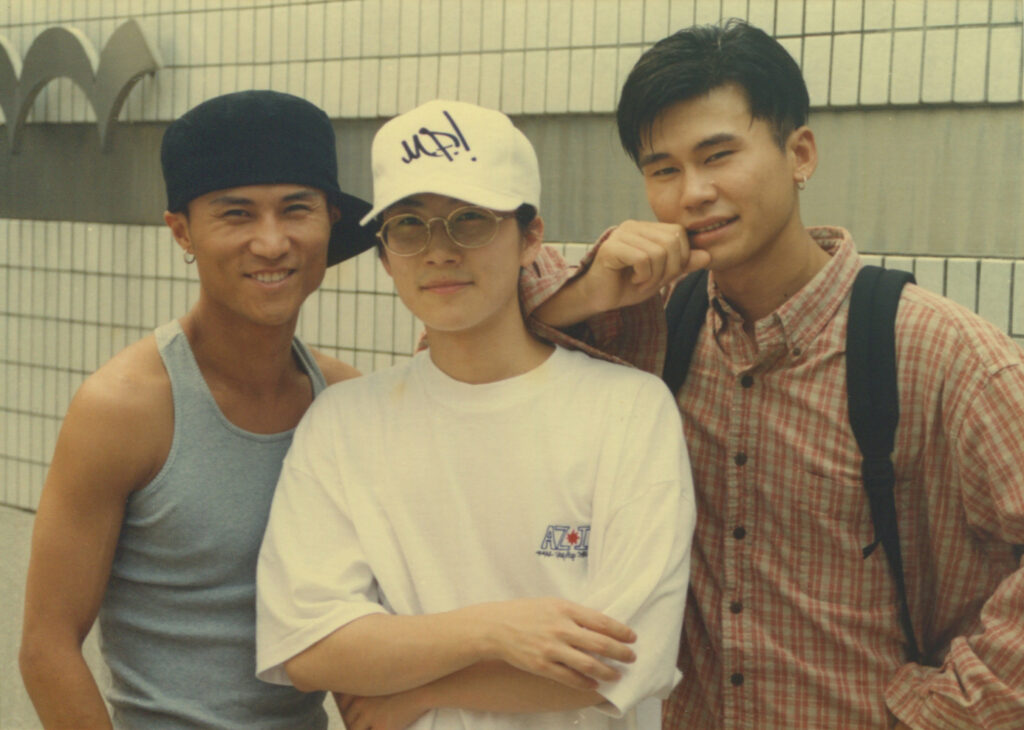 Often considered the original K-pop artists. Seo Taiji and Boys were huge in bringing American and Western culture to South Korea. Starting at the end of Korean censorship and political music. The trio became the first group to incorporate Western styles and genres into their music, inspiring future generations of Korean artists. 
Whilst outside the group, Yang Hyun-suk has helped influence K-pop founding. YG Entertainment a now-established Big 3 company that has seen host to some of K-pop's most successful acts. The group would see led member Seo Taiji. Previously a former member of Sinawe, a legendary Korean rock band. He is arguably Korea's most famous musician, earning numerous accolades. He has collaborated and performed with some of Korean music's most successful artists showing the influence that he and the trio have had on K-pop.
Read more about Seo Taiji and Boys here!
H.O.T & Sechskies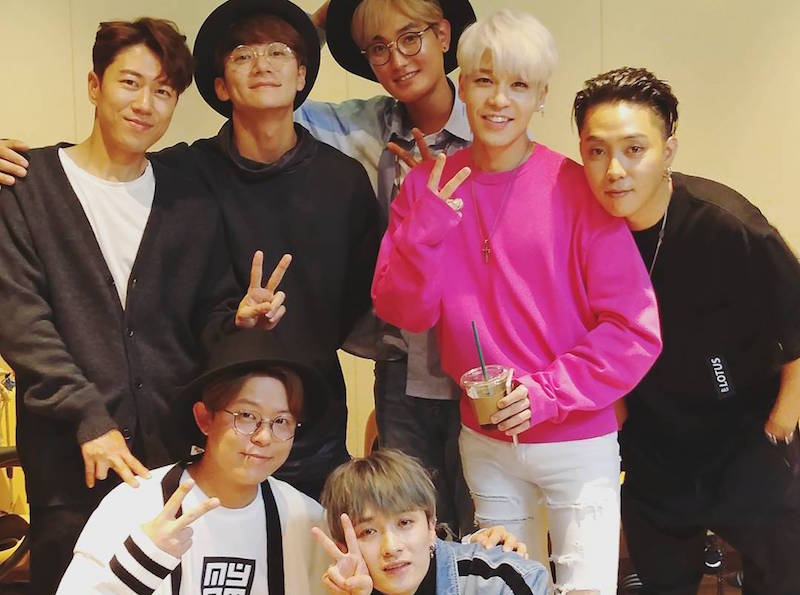 Whilst Seo Taiji and Boys are credited as being the originators of K-pop's style. It is impossible to talk about the beginning of K-pop without talking about K-pop's first idol boy group H.O.T. Becoming SM's first-ever artist, they help form the industry into what it is now. Their fashion and music styles have inspired future generations of K-pop, with their songs still iconic to this day, 'Candy' was originally sung by H.O.T and has been covered by numerous K-pop groups, with the most famous being by SM group NCT Dream, who would feature the hit song as the title song of their Winter Special album. 
The members also saw success outside of H.O.T. Kangta became one of Korea's most successful artists in Korea growing to become arguably SM's most successful idol in a career still going strong today. Whilst members Jang Woo-hyuk, Tony Ahn and Lee Jae-won formed JTL. A rap group where each member would lean into their rapping ability, showcasing a new side to their musical abilities.
However, it is impossible to talk about H.O.T. without talking about Sechskies. A DSP media boy group who debuted just a year later than H.O.T. The two would shape Korean fandom for better or worse, establishing the concept of fan wars. They divided the youth of Korea, forming fan clubs. Competing at award ceremonies against each other together, they are both huge influences on K-pop as we see it now. Sechskies became the first-ever K-pop idols to star in their own movie.
Read more about Sechskies here.
DEUX & TURBO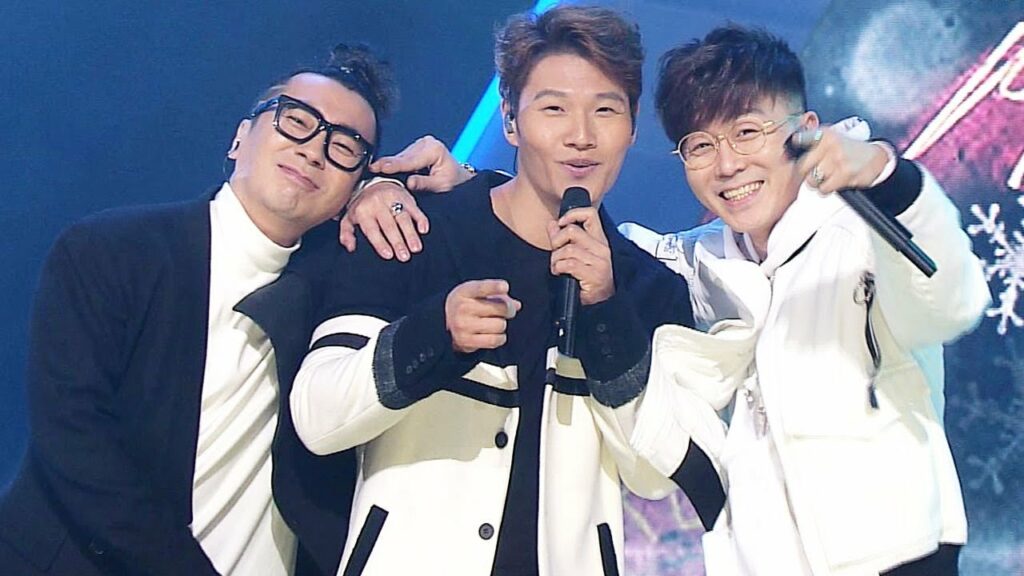 Before the likes of H.O.T and Sechskies took over the Korean music scene introducing K-pop to Korean youth. Korea's music scene was led by Korean dance music. Led by the genre's first-ever acts, DEUX is possibly two of Korea's most talented dancers known at the time for their fashion, style and attitude. They influenced the youth of Korea, perfectly matching that set by Seo Taiji and Boys and bringing in a new era of Korean culture. 
Their level of dance and live performances changed the perspective of dance into what we know it today. Making it more of a focus on Korean music and similar to what we see in K-pop whilst their music signified the 90s generation.
Similarly, shortly after, DEUX reached success. TURBO would debut a couple of years later. Spearheaded by a young Kim Jong Kook, a power vocalist straight out of high school. He was one of Korea's youngest artists in an industry dominated by older professionals. Becoming well-known for his vocal ability, the duo became known for their strong vocals and dances alongside the rapping of DJ Kim Jung Nam. The group are now more known for Kim Jong Kook's appearances outside of TURBO, where he has become one of the biggest idols to move into the entertainment industry. He is known for his roles as an MC for I can hear your voice and the popular variety show Running Man. He has evolved into one of Korea's best MCs leading the way for roles in the entertainment industry easily accessible for idols. Whilst his most recent move. Creating his own YouTube channel based around gym content where he interviews and exercises with other celebrities. He has made himself more famous than ever, putting him at the front of Korean gym-related content and Korean YouTube.
Read more about TURBO here.
S.E.S & Fin. K.L.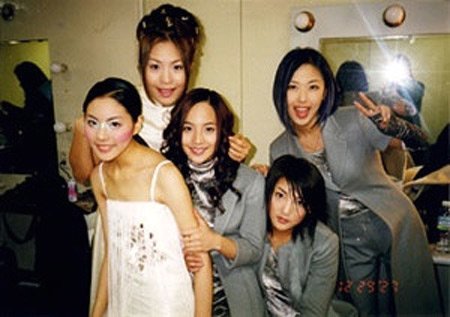 Now, while H.O.T and Sechskies were changing things for the K-pop boy group industry. S.E.S and Fin. K.L. was similarly doing the same for the idol girl group industry. Becoming the first-ever idol girl group. They divided Korea, being seen as counterparts to their male equivalents with S.E.S under SM Entertainment and Fin. K.L. under DSP Media. The two became icons for future generations of female K-pop idols bringing a new sense of style and fashion to Korea. Many would replicate their looks, from clothing to hair. Whilst their music, in contrast to that of rising giant Baby V.O.X. They formed Korea's first power girls generation of power.
Both groups have gone on to see success outside of their respective groups. Fin. K.L Lee Hyori became one of K-pop's most successful solo artists in 2000, becoming the highest-paid female idol under Mnet music. She incorporated various genres of music into her songs. She has appeared in various K-dramas and variety shows as both an actor and MC. 
Known as a legendary figure, she was named on the Korea Power Celebrity 40 ranking 2009-2011 and is said to have influenced the likes of Kara, Jeon Somi, Chungha and Jessica Jung. To name a few.
While S.E.S's Eugene would also see success going straight into a career in acting. She has not only become one of Korea's most famous idol-turned-actress. But a recognisable actress in Korea, appearing in various successful K-dramas, most recently appearing in the hit series Penthouse.
Both have successfully made comebacks in the 2010s after a long hiatus to great success showing that 90s girl power is still alive and well.
Read more about Fin. K.L. here.
g.o.d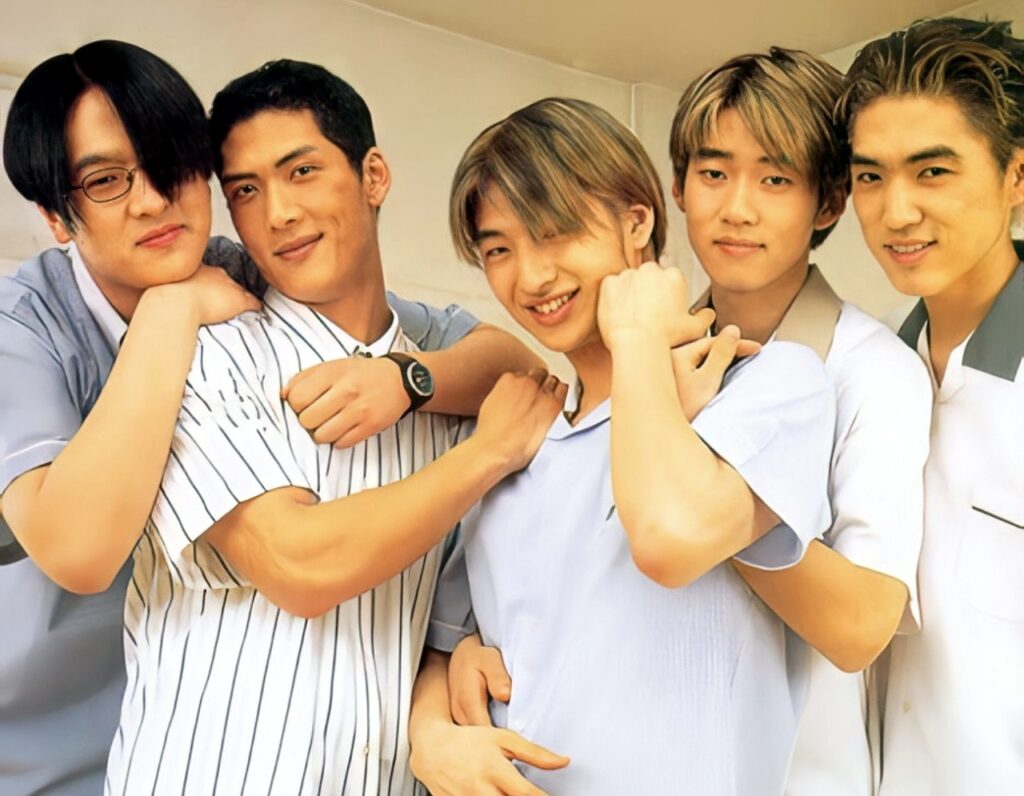 The first group to be dubbed "The Nation's Group," g.o.d became Korea's first-ever major hip-hop/RnB group. Breaking records for album sales which would stand for years only being broken by BTS over 15 years later. The group attracted listeners of all ages with an image at the time, different to the bright colours of H.O.T and Sechskies, the group dressed in a more laid-back, relaxed style similar to that of Western hip-hop stars. Their songs have been influential with various songs. With many of their hit songs being covered by K-pop's biggest stars, they have influenced the likes of 2AM, B1A4, twice and IU. They would also inspire the naming of the group GOT7 after g.o.d was originally meant to be called GOT6. 
The group became the perfect example of success in Korean music. Debuting during the 1997 IMF Crisis, they sold out arenas across Korea, selling out the Jamsil Sport Complex for their 15th anniversary after a long hiatus.
Read more about g.o.d here.
Shinhwa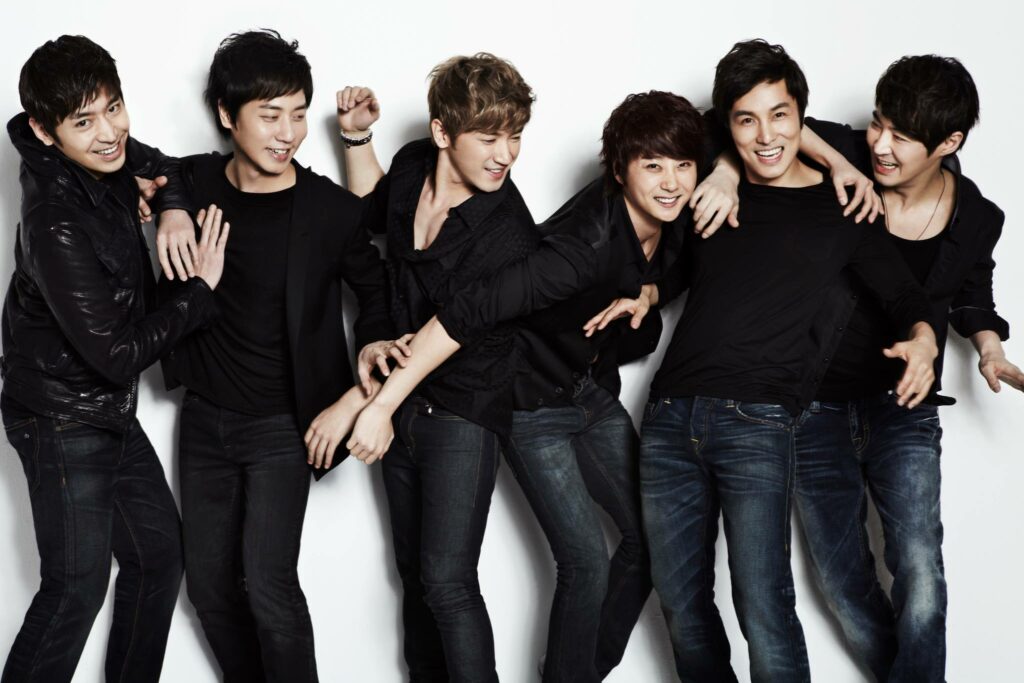 SM's second-ever boy group, you cannot talk about K-pop without talking about Shinhwa. Debuting in 1998, they're K-pop's longest active group, doing so unlike many other idol groups they have done so without a long hiatus. Showing the model to a long successful career that many groups have replicated and built upon. Shinhwa would also become one of the first-ever groups to go independent. Creating their own label and battling legal issues over their branding, they have stayed together as a group under Shinhwa Group. Shinhwa celebrated 20 years together in 2018 and most recently created their first-ever sub-unit Shinhwa WDJ. Consisting of members Minwoo, Dongwan and Junjin. The group have been credited with inspiring the likes of 2PM, BigBang, Dreamcatcher, EXID, MAP6 and Seventeen. 
Looking at celebrating 25 years this August, Shinhwa is a prime example of a long successful K-pop career and don't look at letting up anytime soon.
Read more about Shinhwa here.
DJ DOC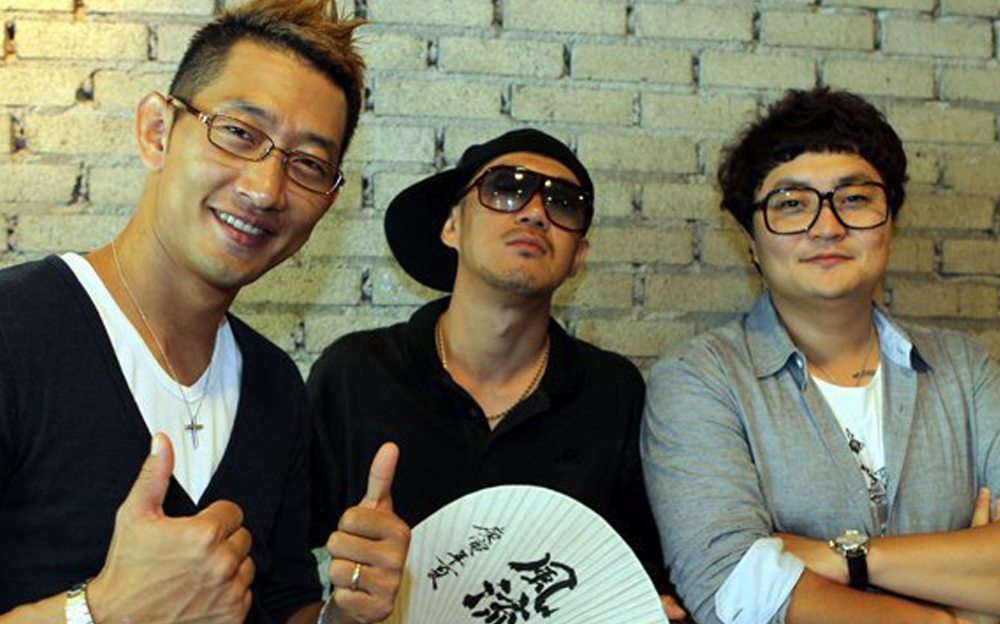 Debuting around the same time as Seo Taiji and Boys in 1994, whilst the originators of K-pop were incorporating Western styles and fashion into the Korean spotlight. DJ DOC would do the same with Korean hip-hop. The trio created songs criticising societal issues at the time of the end of Korean government censorship.
The trio truly brought Korean hip-hop to the focus of Korean music, showing the way for many future rappers and allowing the genre to be seen as it is today.
Uhm Jung Hwa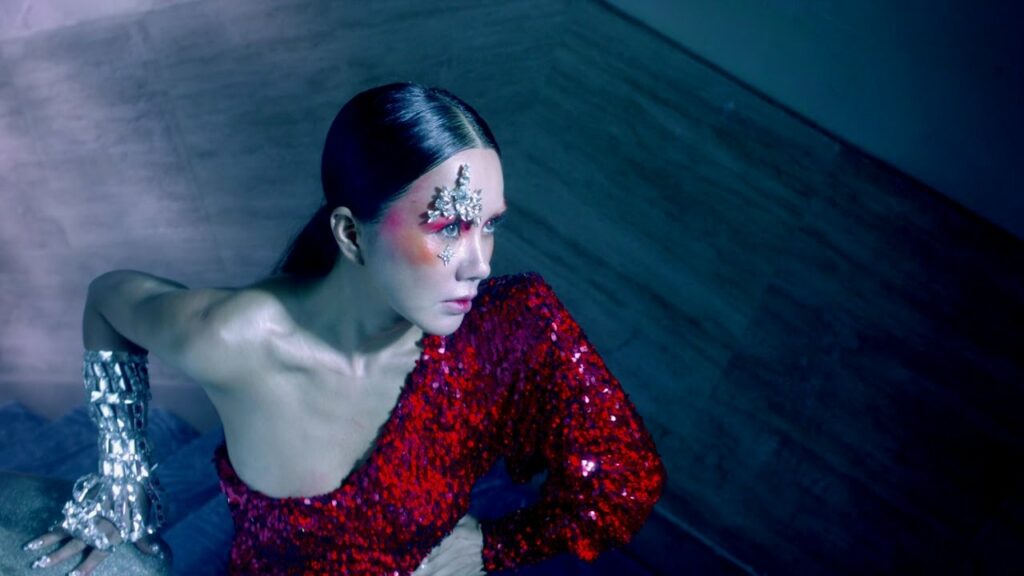 Debuting in the mid-90, Uhm Jung Hwa is not only K-pop's most iconic female artist but a solo artist overall, experimenting and incorporating various genres over the years. Uhm Jung Hwa has been dubbed 'Korean Madonna' for her ability to reinvent herself and sustain a successful career still going strong today.
She has had hit songs take over the chart. Such as 'Invitation' and 'Poison' with the album 'Invitation.' Which featured both songs took her to new heights. Becoming one of the year's highest-selling albums, it showed an older, more mature side to the singer. 
She has inspired various artists such as BoA, Lee Hyori, Baek Ji Young, Sandara Park and Tiffany Young, to name a few. And has more recently collaborated with a wide range of artists, whether it be Hwa Sa and DPR Live on the 2020 single 'Hop in,' or artists Jonghyun, Lee Hyori and Jung Ryeo Won on separate tracks as part of her 2017 album 'The Cloud Dream of the Nine.'
However, Uhm Jung Hwa, whilst famous in music, she is also extremely successful as an actor. Debuting as an actor just a few months before as an artist, she was one of the first-ever idols to successfully manage a career in both fields. She has also seen success in the fashion field, launching her own clothing line where she reportedly earnt over $10 million in 3 months. Becoming the first artist to succeed in fashion in Korea. She led the way to the likes of Jessica Jung, who would launch her own fashion brand with a flagship store in Seoul.
Pathed the way is such a loose term, and whilst K-pop is also a loose term itself we all know it is more than just pop stars. They are talented individuals who do so many different things that make them so loved with many idols having specialised in such areas. We truly, can't boil K-pop down to one artist it's many talented musicians who have all contributed and worked hard in their respective areas, to create the genre we love and know today.
Do you agree with our artists from the pre-2000s? Is there anyone we missed? Let us know in the comments or on Social Media, and stay tuned for Part 2, where we continue our deep dive into K-pop's most influential figures who pathed the way throughout the 2000s and 2010s.