Restaurant review – Arirang, London
I have been to Arirang twice for lunch so these comments only come from this experience. Hopefully I will be able to explore the evening service and make a comparison.
Once you bypass the slightly shaded window that is seen outside (perhaps a way for you to give into your curiosity and walk inside to dine) you will find the restaurant's décor is rather trendy. It looks small when you first walk in as there are large tables and soft seating against the wall but there are downstairs seats with the special ventilation used when you're having BBQ dishes. Apparently the downstairs seating is only available for dinner or special bookings.
The first dish I tried at my first visit to Arirang was Jap Chae and the dish's size reflected its price of £7.50. Starters have often consisted of shredded cucumber in spicy sauce sprinkled on top of green jelly slices (I think it is jelly or Noktumuk – can someone who has been here confirm this? I always forget to ask the staff but I blame my hunger taking over when the food arrives). My second visit had an additional dish of boiled broccoli this time.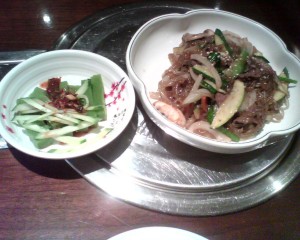 For my second visit to Arirang I originally planned to go for the Dol Bibimbab set meal because the hot stone pot is a long term favourite Korean dish but while browsing the menu I came across other dishes I had never tried and decided to be different for a change. I took a gamble and ordered Zol Men/Myun – cold, chewy noodles with spicy sauce and vegetables. I wanted to see how it was presented since I often eat Zaru Soba at Japanese restaurants when I want a light lunch. The waitress who took my order double checked if I really wanted cold noodles and I said it was fine. To add to the main meal I added Kim Gul/crispy seaweed as an appetizer in case I needed an extra flavour with the noodles. Surprisingly the seaweed side dish went rather well with the Zol Myun.
When the Zol Myun dish arrived the same waitress promptly asked if I wanted the noodles to be cut and I let her use the large pair of scissors she was holding to make it easier for me to eat the noodles. I was not expecting the bowl to be huge and for there to be a lot of vegetables. I thought it would be a much simpler looking dish with one or two types of vegetables decorated on a large pile of noodles but this was a pleasant surprise. Adding the spicy sauce made this dish tastier.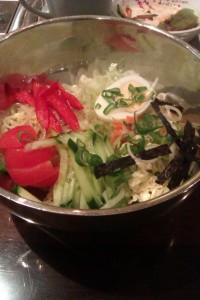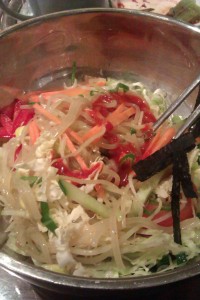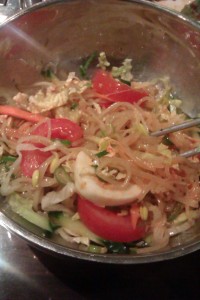 Once I had finished my meal, I was given an orange as a dessert and my bill was given to me before I had even asked for it. I sensed this was a gesture for me to hurry up and leave which I didn't object to as I had already finished my meal happily and wanted to give the restaurant a free table in case more customers started coming in. By this time it had begun to get busier and the customers who reserved tables had arrived later on.
Overall – lunch time hours are noon till 4pm and I wonder if the service suffers a little because there are a lack of staff or because a large number of customers just came in at the same time around the last minute. During my recent visit to Arirang only two waitresses were serving the customers and it was difficult to get their attention when I was ready to place my order as they were incredibly busy with clearing other tables and preparing drinks. Lunch time orders do not include service charge but I was rather lenient because of how busy it became in the late afternoon thus I tipped the waitresses before I left.
The food arrival time was very good and so was my waiting time for a free table. When the staff said five minutes they meant it. Pricing for the dishes reminded me of Little Korea however the Korean set meals are justifiable and you do get a lot of food if you order a dish that is £11 approximately. The Zol Myun is reasonable for £8.50 and it fills your hunger satisfyingly. It's not too heavy and not too light. I have no idea how the Japanese dishes fair as I haven't tried them yet. From what I recall it's mostly Sushi or Sashimi set meals available. Will have to check the next time I visit the restaurant.