The JYP boy group have kicked off their latest promotions with the release of their 7th Mini Album '7 For 7' today on October 10.
SEE MORE: GOT7's album scores high on UK iTunes album chart!
This is GOT7's second comeback of the year, following 'Flight Log: Arrival' in March which ranked at #19 which makes their current entry at #10 their highest peak yet! The boys went on to break their own record of sales as they achieved over 64,000, this shows how much growing support they've had over the years!
They've grabbed 14 #1's so far in Finland, Hungary, Brazil and more and even got to #2 on the US iTunes chart! You can check out the M/V for 'You Are' below, the overall views of the video is rapidly approaching 3 million and is currently trending the Top 20 too!
[UPDATE] It's been a few hours and GOT7 have jumped up two places to #8 on the chart, beating their old record for the second time today! It's been the most internationally successful year for K-Pop with the boys being the third highest ranking Korean group on the UK iTunes album chart. If you haven't already bought the album and wish to do so, you can get it here on iTunes for £6.99!

[UPDATE 11/10/2017]
GOT7 have officially peaked at #7 on the iTunes chart! What a coincidence that this was their highest charting position for their 7th Mini Album!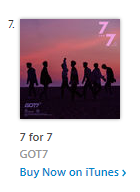 ---