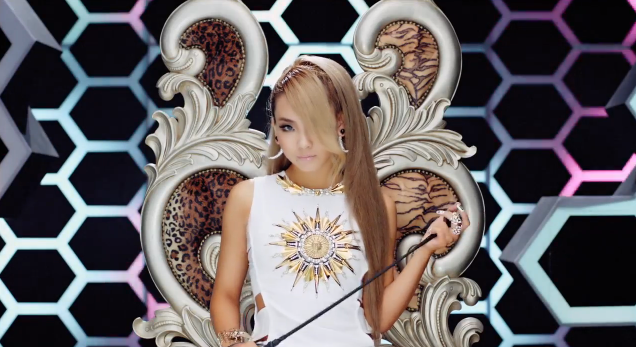 Calling all Blackjacks! Today we're going to take a look at the leader of 2NE1's first solo track. This is CL with her aptly titled track, The Baddest Female. Aw yeah.
Concept
As the title of the track might suggest, the concept of this song is being a bad girl, the kind that CL explains perfectly in the song; 'Not bad meaning bad, but bad meaning good, you know?'
This is definitely the kind of concept that I expected from CL when reading that she was going to be doing solo promotions, and she pulls off the 'bad girl' concept like no other. I can already imagine some people trying to claim that she's just a girl trying to act tough but as much as I hate this phrase (you don't know how much it kills me to use it) CL has swag, and her self-confidence makes everything that you see in the MV completely believable. She is The Baddest Female.
Some aspects of the video are pretty standard for what I would expect from a hip hop MV with production costs that probably cost more than my house, such as expensive cars, outlandish high fashion, and general shows of wealth and connections, but CL puts her own unique twist on it adding a little bit of cute at times; she sits on a swing at one point made up of her initials, dressed in bright, cute clothes. There's also a Louis Vuitton-inspired 'CL' symbol in the background at one point, and it's also a little bit cute when she dances on some hi-tech skipping squares. CL effortlessly switches between fierce and cute in a way that's reminiscent of Nicki Minaj, and even when she's being cute, she still has attitude!
The video has no storyline to it, but is scene after scene showcasing CL's versatility. We see CL being herded away from paparazzi in a limousine, we also see her showing her fierceness and stage presence as she raps to us in sparsely decorated rooms wearing a mix of high fashion and urban clothing. We also see a cuter, brighter side to her as she plays on a swing, plays a skipping game and even jump rope. Everything is decadent and extravagant, and works amazingly well.
Where to I even begin to talk about the clothing worn in this MV? It's absolutely fantastic.
The fashion used in the video is eclectic and varied, as it's all high-fashion mixed with urban wear, which combines to make an incredibly edgy style for the video. From what I could count, CL wears 13 different outfits throughout the duration of the MV, ranging from Jeremy Scott neon clothes to urban tracksuits with snapbacks and sneakers to extremely over the top high fashion outfits that would be un-wearable in the real world. There is also an abundance of big, chunky gold jewellery which adds to the urban feel, some serious golden, fanged grills, and some truly cool nail art. Everything about the outfits and accessories are full-on and extravagant, which lends to the credibility of the bad girl concept.
I did notice that there were some things pretty similar in the MV to things we've seen from Western artists, such as; Nicki Minaj (there's a neon-forest scene in CL's MV that looks a lot like Nicki Minaj's Massive Attack MV), Beyonce (standing on crag looking fierce like in Who Run The World MV) and even Ciara (in her MV for Like A Boy, she portrays both a man and woman, which CL also does). Of course, these could all be coincidences, but I would imagine that it is more likely that CL could be paying homage to her musical inspirations.
Like many hip hop videos, The Baddest Female boasts cameos from some of CL's label mates who she is close with, and this is a nice treat for kpop fans but won't mean much to non-kpop fans. There are probably more, but I spotted GD, Taeyang and Teddy.
UK Potential: 4.5/5
Choreography
You don't see too much choreography in the video except for during the chorus, which is mostly just an exaggerated sway from side to side with some hand movements. This is a very easy move that will be easily replicated by people if wanted, and it matches the tone of the song perfectly as it is effortlessly cool. Because it is easy to copy, this should also add something else to the overall song that is memorable for people.
You also see a little more choreography at one point that makes it look like she's playing hopscotch, which is a little bit cute, and yet remains very cool at the same time.
UK Potential: 4/5
Song
This cool and edgy song has a slow hip hop beat, and is infused with dubstep and modern sounds that give it an overall unforgiving and awesome sound. The Baddest Female has an unapologetic beat and a relentless sound packed with so much attitude that I actually feel cooler listening to it. I can see this track being popular among people under thirty, but I don't think such as strong sound will appeal to everybody. But it should also appeal largely to people who like the edgier stuff found in the charts, and anybody who likes elements of hip hop in their music.
All the lyrics throughout the track are delivered in CL's signature rapid fire rapping, which is very unusual for a kpop song, and even more unusual for a female artist. As we all know, most kpop songs have a proportion of a song generally set aside for a rap verse, so hearing an entire song rapped is pretty refreshing, and it completely adds to the strong and undeniable feel of the song and MV.
As expected from this song, the English used is flawless. YG is well known for producing songs with good English, seeing as one of the main producers is American-Korean, and in the case of The Baddest Female, CL also has very good English skills. The main English used is 'where's all my bad girls at' and 'This is for all my bad girls around the world. Not bad meaning bad, but bad meaning good, you know. Lets light it up and let it burn like we don't care. Let them know how damn good it feels to be bad '. Other English used is 'all my gold chains swinging left, right', 'all my b-boys, my b-girls' and 'I never say sorry'. As you would expect, all the English makes complete sense, sounds amazing, and contains enough slang and colloquialisms to make this song even more accessible to English speakers.
This track is filled with self-contained hooks that would make parts of this song very easily memorable to many people even without being able to speak Korean. This song is just so cool sounding that I would like to think that it would bypass any notions of a language barrier that can put people off of listening to Korean music.
UK Potential: 5/5
Highlight: Not gonna lie, I love the 'CL' swing. I wonder if I can get one made up with my initials? And I can buy that 'unni' ring too, right? Gotta get me one of those.
Overall UK potential: 13.5/15
I have always been of the opinion that 2NE1 would be one of the bands that would probably make it big in the West if they were to ever release an English album, and this is probably due to their sound and style containing American elements anyway, which is why this track has been scored so high.
Whether this Americanised sound is how you want Kpop represented or not, you can't deny that this has a much wider appeal to people.
The Baddest Female is fierce, amazingly produced and the English is flawless. Even with a majority of Korean lyrics, I would bet money that this song would become very popular in the UK if released here.
So, what do you guys think of this song? Let us know!