Last week G Dragon posted a photograph to his Instagram that caused much controversy and got him featured by news websites all over the world, including UK's The Guardian.
They began their article
"K-pop star G-Dragon has sparked controversy with a message of "support" for murdered teenager Trayvon Martin, posing for a photo in black face paint."
You can read the full article [here]
The photograph in question is this, which G Dragon simply captioned X.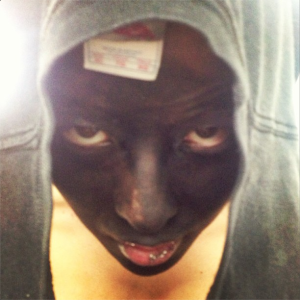 Representatives of GD, contrary to reports from The Guardian and many other news sources, have spoken about this photograph.
Here is the official statement about GD's black face paint made in an email to SPIN.
"GD was simply wearing different facepaint colors and this is a HUGE misunderstanding. The facepaint is only a color variation for his album cover which includes black, white, and red. It is in no way meant to be a political or racial statement. It's being derived by a simple photo shoot where GD was using different facepaint colors for his upcoming album."
The email to SPIN was made in response to their accusation that the instagram photograph was in 'support' of Trayvon Martin, GD's spokesperson was quoted as saying their reporting was "completely wrong and taken out of context."
The assumptions from SPIN (and LA TIMES) the first to report on G Dragon's instagram photograph come from the unusual similarity to a meme that followed the death of the teenager last year. Stars such as Ludacris, Jamie Foxx, Frank Ocean, and Nelly were just some of the notable names to post photos of themselves in a hoodie along with millions of others in response to the death.
G Dragon's photo made no mention of the teenager, and, though a technicality, actually appears to have a t-shirt pulled up over his head.
The photograph does bear a striking resemblance to the meme, but assumptions can't always be made about the meaning of a photograph.
Let's expect G Dragon's coming work to have him in different coloured face paints because some journalists may just be watching and waiting for this explanation to backfire.