UK Inspirits! The news you have all been patiently waiting for…
As part of their 2013 ONE GREAT STEP world tour, Infinite are due to make their stop here in the UK on Wednesday 27th November!
A photo of what appears to be a badge/pass from one of their concerts has been floating around the world wide web with all the stops and dates of Infinite's world tour.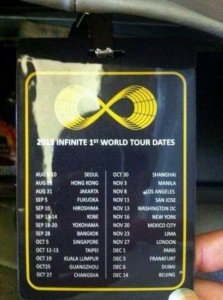 Although the date hasn't been officially announced by Woollim Ent. or any ticketing agencies alike, it is likely they will hold their concert in London on this date.
Keep following UnitedKpop for the latest updates regarding Infinite's UK concert!