Funky Korean food stall Galbi Bros will be hosting a special pop up night in London. Interested? Keep on reading for more information.

Moses, Hanbit and their hardworking team will be at cocktail bar The Dead Dolls' Club in Dalston on Tuesday 29th October. In addition to their Galbi burgers, there will be extra dishes to try like Don Fries and Hoddeok. You can take a look at their menu for this special event below: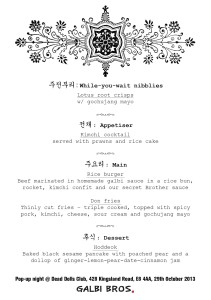 Tickets cost £15 with a £1.55 booking fee added and you can choose when you would like to come between two different time slots. The first batch of customers will be allowed to dine from 6:30pm – 8:30pm before the next group arrive at 8:30pm and finish at 10:30pm.
If you want to experience some delicious Korean fast food in a trendy surrounding then buy your tickets here.
Address and opening hours for The Dead Dolls' Club can be found on their website.