Last week we introduced First Gen Friday with Seo Taiji and the Boys, today we're going to continue with g.o.d. As with many of the groups we'll feature in First Gen Friday, even if you don't know much about them you might find as you read on that you recognise some of their most popular songs.
g.o.d, an acronym for Groove Over Dose, were the first kpop group to come from JYP Entertainment. The group was made up of leader and rapper Park Joon Hyung, vocalist Yoon Kye Sang, lead rapper Danny Ahn, vocalist Son Ho Young, and lead vocalist Kim Tae Woo.
Unlike the groups of SM Entertainment who started the idol wave JYP and g.o.d took a different approach to the idol group. g.o.d put together five more ordinary looking members, rather than having visual focus members, and debuted them with strong and meaningful lyrics in the hope that they would draw in a wider audience. It was in 1999 that g.o.d were able to debut.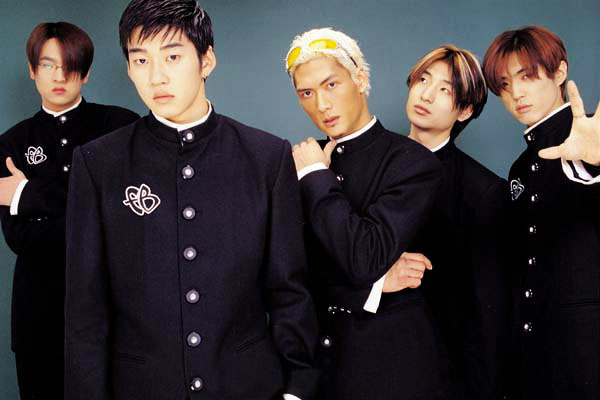 Left to right: Tae Woo, Kye Sang, Joon Hyung, Ho Young, Danny
JYP's aims for appealing to a wider audience paid off as g.o.d's debut To My Mother is about the struggles of a single mother and all the sacrifices she makes to raise her son. At a time of economic crisis for the country the song spoke volumes and the group shot to fame. These lyrics are based partially on Joon's childhood, and almost 15 years on lines like 'ameonimeun jajangmyeomi silhdago hasyeosseo / Mother said she didn't like black bean noodles' are still some of the most remembered lyrics in Korean pop, Danny is still proud he wrote the line.
Their lyrical content continued to be the reason their fan base grew. One Candle inspires people to stay strong when faced with a challenge and even today you'll still hear it covered regularly. Road is about the path you choose to take and whether it will lead to both your dreams in life and happiness.
Adding to their talent for lyrics, g.o.d were also know for their diverse musical style, if you didn't like one song there was more than likely going to be another you'd appreciate. Under their belt they have songs around the trusty kpop theme of love, including their huge hit Lies. Even more upbeat dance pop tracks such as Report To The Dance Floor.
In their seven album discography both Chapter 3 and Chapter 4 were million sellers, Chapter 4 twice over and 3 not far off, a feat not many kpop acts have achieved.
Chapter 4, Road, also picked up the Daesang at the 2001 KBS, SBS, & MBC's Gayo Daejun, and if that wasn't enough, took home the same at the Golden Disk Awards.
At the end of 2004, after promoting Chapter 5, Kye Sang left the group temporarily. In this time he chose to follow an acting career and do his mandatory service. Though he never returned to the group and continued to work as an actor.
Kye Sang's departure from the group was hard on the members and many fans disapproved of his decision. It is only more recently, after eight years, that they have revealed their full feelings on the situation and Kye Sang himself has spoken out about his real reasons for leaving.
As four members g.o.d continued and made two more albums though disbanded at the beginning of 2006 saying 'We do not want to use the word 'break up'. Even though we can't say when, someday we will get together again to play music.'
Between then and April 2013 g.o.d have done exactly as they promised. In all different combinations they continue to get together and sing their old songs, three of them even getting together for Legends of Music Bank.
[youtube id="cM5gLdEkzt4″]
Since disbanding g.o.d the members have done a variety of different things.
Joon was raised in America so he went to Hollywood to try his luck, if you've seen Dragonball Evolution you might recognise him as Yamcha! He was also in Speed Racer.
If you're a watcher of Korean dramas or movies Kye Sang might be someone you've seen before. Minority Opinions, Poongsan, The Greatest Love, Who Are You?, you'll find him in many things.
Danny also ventured into acting with dramas such as When Women Powder Twice & movies like Crazy waiting. Now you can find him as a host on Top Gear Korea and We Got Married, and as a member of H.S.g.R. the 5 piece project group of first generation idols who host the variety show Handsome Boys of the 20th Century.
Ho Young is a successful solo artist, actor and variety star. In the past couple of years he came 2nd in 2012's Operastar, held a regular spot on Immortal Song 2, and as the winner of Celebrity Masterchef hosted his own show Son Ho Young's Asian Cook. All his activities are on hold at the moment however.
Tae Woo is also a successful solo artist, his latest album having released in February. He runs his own entertainment agency Soul Shop Entertainment and is Megan Lee's manager. You might have heard Tae Woo on the OST of popular K-dramas, he's written for shows such as Iris, A Gentleman's Dignity and Marry Him If You Dare.
Here's how the current generation of Kpop take on g.o.d
One Candle
MBLAQ – the group are big g.o.d fans, Mir was even in the official fangod fan club, they'll often cover Lies
[youtube id="7CZWMx6NjF4″]
BtoB
[youtube id="fWo9_3v7a-w"]
B.A.P
[youtube id="lhsj4QOJVHQ"]
Kim Tae Woo featuring  SHINee's Jonghyun, 2PM's Jun.K, & K.Will – Medley featuring Love and Memory / Lies / One Candle
[youtube id="s5B8KK-0GRw"]