Although we are indeed, a UK news site for K-pop, we're aware there are a number of more adventurous fans amongst us, who often take trips over the pond for European concerts. So, we've compiled all the information we can on LEDApple's upcoming concert in The Netherlands on Feb 14th next year to make it easier for you to make your trips! Keep reading for more.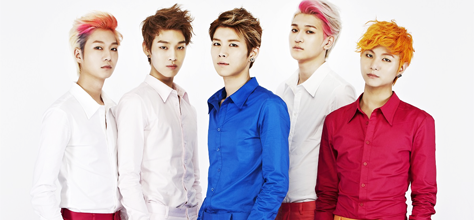 Would you like to spend Valentine's with some K-pop stars? Well, thanks to INVAZI – who hosted the Jay Park ft VICTOR concert in London – now's your chance as LEDApple will be in The Netherlands for their first European concert on February 14th next year. As previously stated, this article contains everything a UK fan might need in order to ship themselves across to mainland Europe to see the boys perform. First up is the basic concert information, the usual date/time, location and where to grab yourselves a ticket.
Date/Time:
Friday, 14th Feb 2014 (Doors at 7PM)
Location:
Maassilo, Rotterdam
Maashaven Zuidzijde 1-2,
3081 AE Rotterdam,
Netherlands
Buy Tickets:
Ticketscript
(Maassilo is a unique venue in a converted grain Silo, it boasts a number of different multi-purpose rooms)
Now for some low-down on the tickets themselves, what costs how much, and what do you get with it? Tickets are nicely priced from £31-£62, with the highest price of course, gaining you a VIP ticket. INVAZI's plan is for VIP ticket holders to be able to remain within the venue to wait for the Meet & Greet, however this still needs to be cleared with security and so they'll update everyone ASAP. The VIP/Meet & Greet tickets are very limited, and so, you better grab one whilst you can – they're cheaper than some of our standard tickets at concerts have been! On the ticket page, you can pay via the following methods; Ideal (Only in The Netherlands), Visa/Mastercard and PayPal.
Package
Price
Includes
Standard:
€38 (£31)
Standard Ticket
Early Entry:
€48 (£39)
One Hour Early Entrance
VIP:
€75 (£62)
1HR Early Access, Meet & Greet,
18+ After Party Ticket
 Having a ticket is all good and well, but how exactly are we getting ourselves from the UK across to Rotterdam? Well here's some information on both flights and coaches from various UK locations to both Amsterdam and Rotterdam. The coach journey, whilst much cheaper, is inevitably longer. Although it'll please the Scots amongst us to know, the journey is actually less than that to London somehow, coming up at around 6/7 hours – according to the Euroline site.
*R/A = Rotterdam/Amsterdam
Note: Flights departing Thurs 13th Feb, returning Sat 15th Feb. No available flights from Manchester or Birmingham to Rotterdam during that time. Prices and conversion rates subject to change and tickets subject to availability, prices and conversions correct at 9PM Dec 4th. UnitedKpop Ltd is not liable for any damage or loss you may incur from dealing with third party companies. 
If you're looking to book a hotel or hostel room too, you can check out booking.com for prices from £45 in central Rotterdam for 2 nights (13th-15th).
To get to the venue from the Airport, it depends on which airport you fly into. If you fly to Amsterdam (Schiphol), then take the train from the airport towards Rotterdam Central Station, from there take the underground train towards "De Akkers" or "Slinge" and get off at stop "Maashaven". The venue is right next to the station, follow the calls of fans! If you fly into Rotterdam however, you can take the 33 bus from the airport (it runs every 10-20 mins). You can buy a ticket on the bus or you can buy an 'OV- Chipcard', like the Oyster card, at a store called "Ako" – which can be found in either Airport. For more info on the OV-Chipcard you can check out their site in English, here.
If you are coming from Amsterdam Airport, the train to Central Rotterdam will cost €11,20 (£9.28) for 2nd class one way and €19 (£15.75) for 1st class one way. Day tickets for the underground are priced at €7 (£5.80) for 1 day, €10,50 (£8.70) for 2 and €14 (£11.61) for 3 days.