As we become more and more curious about Korea and its culture, we become more interested in what Korea holds behind the mask of Kpop. United Kpop was invited along to a night of discussion and live bands at the Korean Cultural Centre in central London and here's what we made of it.
Last Tuesday 6th May United Kpop was invited along to the event at the Korean Cultural Centre called Think in music. It was a night for those interested in mainly Korean Indie music and where it holds itself on the International world-wide scale. As an avid fan of Indie music from the UK and a growing fan of Korean indie I was very interested in the topic of conversation, Also as a previous fan of Hugh Keice I was also looking forward to the performances later that evening.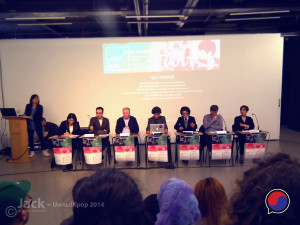 We started off the night with the panel talk between some leading professionals on the Korean and British Indie Scene, A few in which I have met before at other Korean indie gigs in London. The talk started off with Johnny Hopkins, PR Director at Traid Publicity, briefly introducing the guests around him and then the panel talk started.
First to talk was Hae-kyung Um, the Director of Postgraduate Studies, School of Music at the University of Liverpool. Hae-kyung Um gave a brief talk on her research into the Korean indie scene and how it has grown to be recognised internationally, with Kindie bands even performing recently in festivals such as SXSW, a popular American alternative music festival and also having small tours in the UK and performing at Liverpool Sound City.
Johnny Hopkins then gave an insight into the growing figures behind the economy in the UK, and also explained about the market that surrounds the british indie music scene with artists such as Adele making it big internationally. It was all very technical, but one thing that I did learn from it was that even for the UK it is a struggle for an artist to get their music out there.
Hugh Keice was then next to speak as Johnny Hopkins asked him about the struggles of a songwriter/singer. Up until now the panel had been very serious with facts and figures so it was a bit of a relief when Hugh started his 5mins with a bit of light heartiness, explaining how he used to think it was going to be easy when he started out. He went on to explain how important it is to connect with the fans through his music and by singing in English the fans can understand and connect with the stories of his songs. With the theme of the 'relationship' between the fans and the artist, Hugh went on to talk about how social networking has made it easier for musicians to promote themselves and how something simple as replying to a fans message can help an artist grow. As a fan of his music myself I totally agreed with what Hugh was talking about. Since I first discovered his music I have found him to be such a friendly and humble artist.
After Hugh mentioned self promotion and the importance of social networking, the next to talk on the panel was Tones Sansom, Head of press at One Little Indian Records. Tones role and expertise is promoting, marketing and creating schedules for the musicians at One Little India Records. He mentioned that budget is something that has to be considered when promoting an artist. I think in any industry these days the money behind projects is very sparse and of course the bigger the record company the bigger the budget would be, but it's difficult for indie artists to get out there because of the budget on promotion and marketing. Tones Sansom also mentioned that a popular marketing technique these days is word of mouth, which of course it is something that can be done for free especially with the ability for fans to share anything on social network sites.
Another person on the panel I was looking forward to hearing was David Pichilingi, the CEO of Liverpool Sound City and carrying on with the theme of promotion David spoke about the importance of Live concerts in the promotion of these indie bands. The truth is that people these days aren't buying music so the next best thing to support the artists is concerts and nothing beats a live performance, especially from bands that play their own instruments. David mentioned that out of the 9,500 bands that apply to perform at Liverpool Sound City only 360 bands from 23 countries actually get the chance to perform at the festival which isn't because they are bad, but because of how much interest that the festivals hold.
The end of the panel talk was wrapped up with a question from an audience member that asked "Going back to the title 'Think in music – Korean Indie, What is Korean indie music independent from?" To which Hae-kyung Um answered that Korean Indie music was initially underground music so there are a lot of things that it is independent from. Hugh Keice stepped in with the perfect answer to end the panel talk, "I consider myself an indie artist because I have creative freedom over the songs that I write and my music." Which for me sounds like a perfect differential between the mainstream and the indie industry in Korea. For some of us that have been interested in Korea for a while you will agree that we have a more understanding view of how much input the artist have on the releases and comebacks, which is something that I usually look for these days when listening to new music.
After the panel talk it was time to listen to the live bands. Peterpan Complex was up first and I must admit that before hearing them on that night I had no idea of what they sounded like.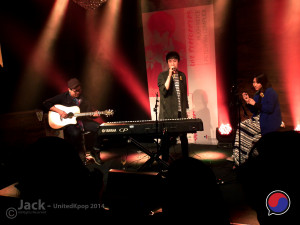 I was pleasantly surprised as I watched their performance. The singer Jeon Ji Han took a hold of the mic and not only expressed himself through singing but also through his post modernistic dances to the music on stage, It was really quite moving. I wasn't expecting to see as much of his energy on stage because he also plays the keyboard, but he really expressed his emotions. I was told later that this performance was more acoustic than their usual music, which made me more curious about them and later looked up their usual sound.
Then it was Hugh Keice's turn to perform. I have seen Hugh perform a few times already so I was really looking forward to it.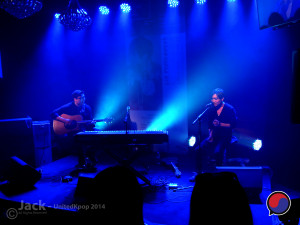 Hugh was joined on stage with Lee Chi Won, who plays guitar in Peterpan Complex as Hugh usually has a band behind him, but they couldn't be there. Hugh performed 3 songs, "J", "Decameron" and "Dancing in the rain" all of which are favourites of mine. He dedicated the last song to the Sewol Ferry victims and families that have been going through a lot of hard times recently. To me the song "Dancing in the rain" and the atmosphere in the KCC became very emotional. I'm sure a lot of people were thinking about the lyrics and also about the families that have lost their children to such a disaster.
Although the live bands didn't get to play for a long time I'm sure there was a few people who were hearing their music for the first time and will look into them further. If anything I think the live performances of Indie bands in the UK and in Korea are very similar. I'm used to going to small venues in Camden town to listen to some of my favourite artists and the atmosphere really felt a lot like those small gigs. I think these small live sets are essential to those Indie groups that want to be internationally recognised and I hope more Korean bands will come over here and do the same.
For more informaion about the artists please go visit their websites below!!
for Peterpan Complex visit : http://www.peterpancomplex.com/
for Hugh Keice visit : http://hughkeice.com/