Recently, BBC Asia posted two articles which looked at the phenomenon of K-pop with Psy's 'Gangnam Style' taking the world by storm back in 2012 and seemingly breaking the barrier into the international music stage. Though, there were concerns with the song (along with the general concept of K-pop making another appearance into Western mainstream music, being just another case of a 'one-hit wonder'. It could be argued that there was a hype surrounding 'Gangnam Style', with the music video standing out amongst all the other MV's that did not contain the funny flare that many people seemed to enjoy from Psy's music video as the views kept piling up until it hit over a billion, which could be regarded as an impressive feat for any artist, let alone one person from the K-pop industry.
See also: PSY's second year on top – YouTube's Most Watched Video of The Year
The BBC article shows that despite Psy's inactivity due to his army enlistment, K-pop will not be pushed aside and forgotten about so easily, 'it's here to stay'. Since 2012, it has not only been Psy that had reaped the attention and awards from the K-pop industry but also Girls Generation who was the first Asian artists to win 'Video of the Year' at the 2013 YouTube Music Awards.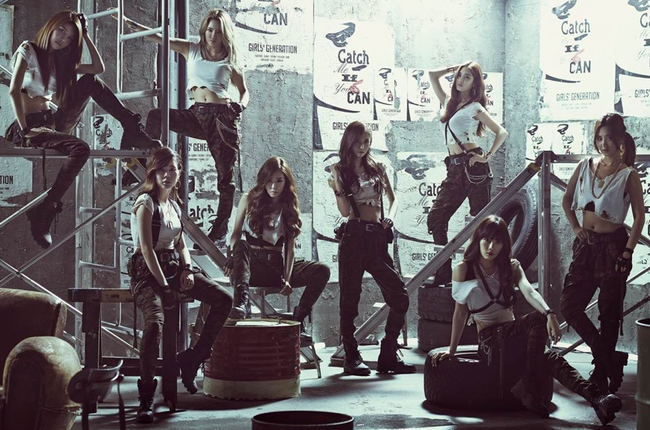 Girls Generation – Credit: Billboard
See also: SNSD wins 'Video of The Year' at the 2013 YouTube awards
But the recognition and the awards did not stop there, as YG groups BigBang and 2ne1 became winners at the 2015 YouTube Music Awards and were even dubbed 'artists to watch'.
See also: Big Bang and 2ne1 – YouTube Music Awards 2015
Now the spotlight has been turned to 2ne1's leader CL, who is currently preparing for her anticipated American debut, and has already established key connections throughout her career, for example with Jeremy Scott and Karl Lagerfeld.
Bit by bit, she's putting her foot through the door into the Western music industry, which began with and G-Dragon (who is the leader from one of K-pop's long standing groups BigBang and labelmate of 2ne1) working with producers Skrillex and Diplo to create the song 'Dirty Vibe' in 2014. Then in 2015, she recently released a collaborated song with Diplo, RiFF RAFF and OG Maco entitled 'Dr Pepper' from being signed to Scooter Braun's label company.
Braun is a talent manager and houses popular artists signed to his record label such as Justin Bieber and Carly Rae Jepson, commented "My team first saw CL perform with 2NE1 in Seoul at one of Psy's concerts, we were extremely impressed with her stage presence… [she's an] amazing performer."
But, it's still early in the year to determine what's going to happen with the K-pop with BigBang's comeback in motion as they have released their second set of songs entitled 'Bang Bang Bang' and 'Like 2 Party' along with their predecessors 'Loser' and 'Bae Bae'.
Also with SM entertainment groups such as SHINee and EXO making their returns along with Girls' Generation who are set for their comeback in June with many others. Who knows who could potentially tip the scales and gain the attention and awards this year?
To see the BBC Asia article further in detail, click here