Actor Ryu Jun Yeol has been spotted at three football matches in London and Manchester , It seems that he had arrived in the UK since last week and attended the matches on the specific dates.
He gained fame through the movie Socialphobia and TV drama Reply 1988 back in 2015 with co-star Hyeri from Girls day
The matches he attended were Chelsea vs Leicester city , Arsenal vs Ludogorets which were both in London and lastly Manchester United vs Fenerbahce in Manchester. He also posted short clips on his Instagram of his journey.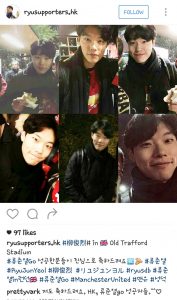 He was also spotted on national television, which he posted a picture of him with José Mourinho the football manager of Manchester United on his Instagram.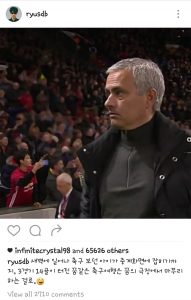 This echoes the time when Shinee Minho was also spotted on national television back in 2012 when he attended the Sunderland match appearing on the show One fine day