Cube Entertainment's latest co-ed subunit since Trouble Maker debuted on May 1, the trio consisting of frontliner Hyuna and her labelmates Hui and E'Dawn from the rookie boy group Pentagon.
Triple H had released their album '199X', which seems to be inspired with a retro concept, is comprised of 5 songs including the title track and instrumental version of '365 Fresh'.
---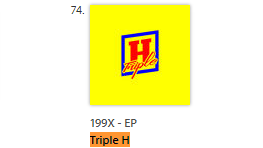 To kick off K-pop UK chart successes, on May 2, the album slid into the UK iTunes Charts at #74! And the MV has gained over 2 million views so far with the underlying dark plot, which is certainly something that we may cover in a MV review soon! You can purchase Triple H's album here on iTunes or you could also listen to it on Spotify!
There seems to be theories over where it's a continuation of Trouble Maker's 'Now', or it could well be a separate spin-off story between all the member's characters, with each coming seem to have their own unique backstories. But anyway, what did you guys think of the trio's debut album?