We're at the halfway point of 2017, but it's already served buckets of success for the boy group this year! As they continued to break records from the release of their repackaged album 'Wings: You Never Walk Alone' to performing in many countries worldwide for 'The Wings Tour 2017'. And not forgetting the one of the biggest milestones of their careers so far as BTS won 'Top Social Artist' at the Billboard Music Awards in May!
See more: BTS break into UK iTunes Charts!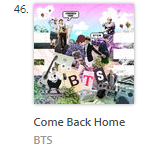 To commemorate the 25th anniversary of Seo Taiji & Boys, the Big Hit group were asked by Seo to take part in the Time: Traveler project by remaking their classic song 'Come Back Home', which was released in 1995. The track has been receiving much support since its release on international charts and was #46 on the UK iTunes Song Chart!
You can purchase the single on iTunes for 0.99 here and also stream it on Spotify too! You can also check out the M/V for the song below.