CJ E&M and O'Live will be collaborating to form a new Korean TV show which will involve the participation of foreigners! The concept of the show is for Korean celebrities to host non-Koreans in their house for 2-3 days.
CJ E&M is known for being one of the biggest entertainment companies, known for producing shows such as 'SNL Korea' as well as movies such as 'Battleship Island' (the newly released Korean movie, featuring Song Joong Ki and So Ji Sub). The company also has its own music division, which houses big names such as Eric Nam, Heize as well as the newly debuted group, Wanna One (formed through Mnet's Produce 101 Season 2). On the other hand, O'Live TV is a South Korean food lifestyle channel connected to CJ E&M. Some of the shows which you may recognise featured on O'Live TV include: 'What Shall We Today' as well as 'Masterchef Korea'.
O'Live TV recently posted on their Facebook regarding the details of the new TV show. You can check out the details of how you can apply and your eligibility below: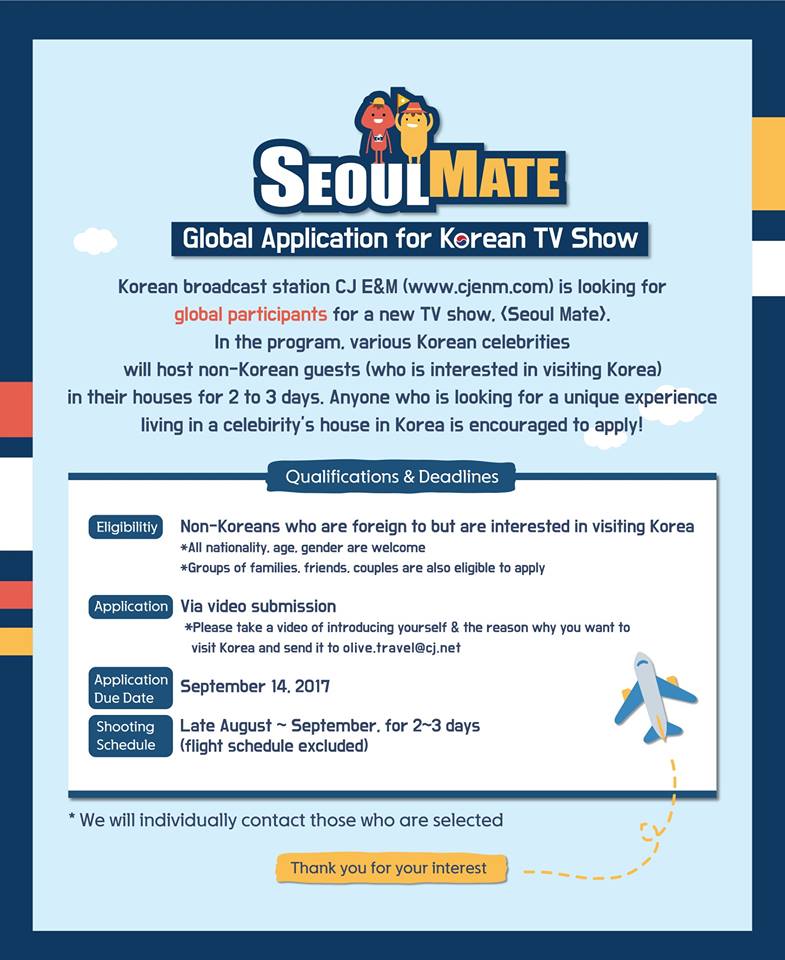 I'm sure that many of you may be interested in seeing what it would be like to live inside a celebrity's home right? To stay inside the home of a K-POP idol, whether you're a K-Pop fan, or a Korean actor's home, if you're a Korean drama addict! Here's an opportunity for you to participate!
From the guidelines, there has been some confusion regarding the application due date along with the schedule as the dates overlap. Fortunately, O'Live has rectified the issue in their poster and have provided an FAQ regarding any questions which may have been unanswered. You can see the FAQ posted below: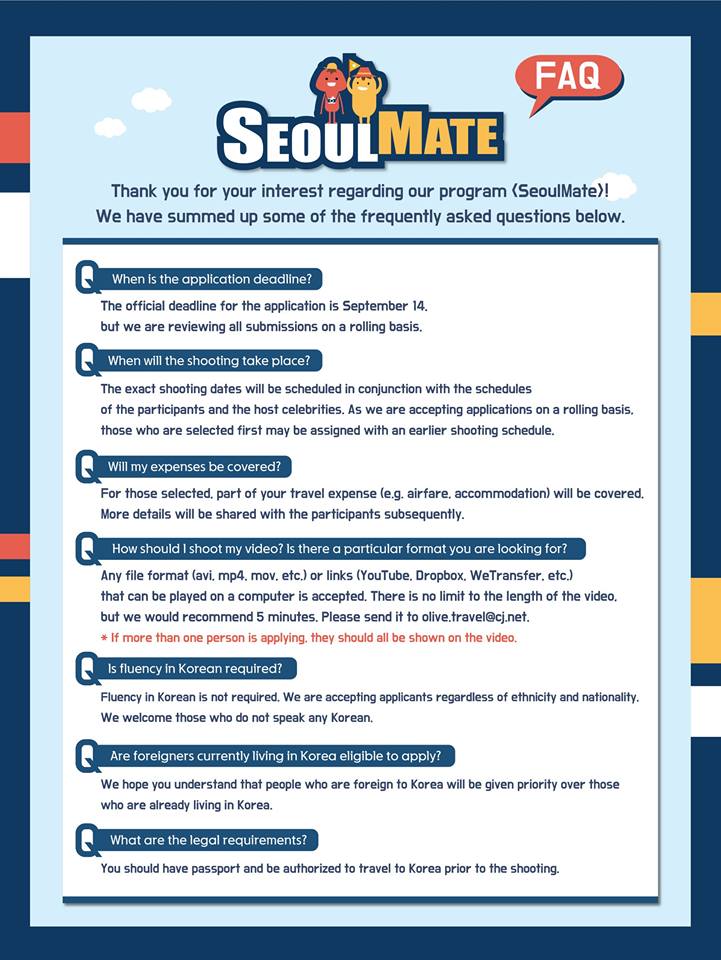 It's an opportunity which shouldn't be missed! So here's your chance, join now!
[UDPATE – 19/09/2017]
The application deadline for 'Seoul Mate' has now been extended until further notice! They will be continuing to accept applications on a rolling basis and will only another announcement when all available slots have been filled. Until then, please take the opportunity to send in your applications whilst you can!