The following events from April 23 to 29 can be found below from SOUTH CLUB's Europe Tour, an exhibition and the screening of 'White Badge' at KCCUK!
If you're planning any events or know of any that you'd like us to feature in our weekly 'Upcoming Events' articles, you can get in touch either on our Facebook page here or you can send an email to info@unitedkpop.com.
SOUTH CLUB: 1ST FANMEETING IN EUROPE 2018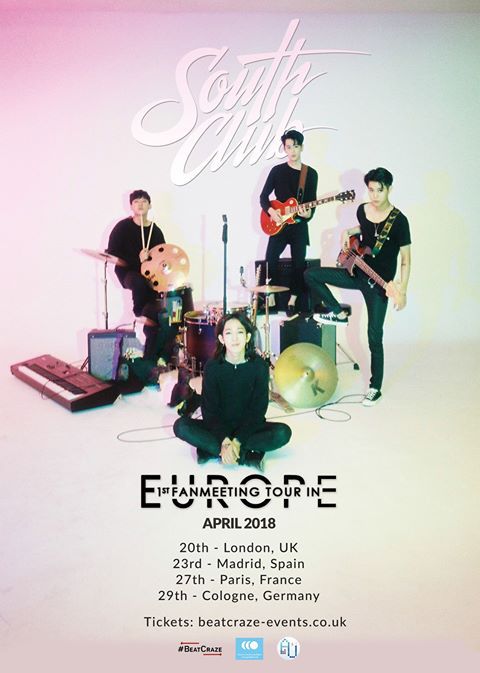 Madrid (Sala But): Monday 23rd April
Paris (Le Trabendo): Friday 27th April
Cologne (Die Kantine):  Friday 29th April
You can buy your tickets here!
'Munbangsau: Friends of the Scholar' an exhibition of Korean Crafts
Korean Cultural Centre UK, 1-3 Strand, London, WC2N 5BW
Dates: 23 April – 17 June 2018
Opening Reception: Monday 23 April 2018, 6-8pm
As part of the Korea/UK season, the Korean Cultural Centre UK and the Cheongju Craft Biennale present 'Munbangsau: Friends of the Scholar'.  The exhibition is based on munbangsau – the four essential literary tools used by Confucian scholars (seonbi) during the Joseon Dynasty (1392-1897 AD).
The exhibition joins the programme of London Craft Week 2018 (9-13 May), and is complemented by an opening performance by a classical geomungo (traditional Korean instrument) player, Jeong-ju Lee, at the opening reception on 23 April. A talk and a workshop will take place on 12 May, featuring master craftsmen from Chungcheongbuk-do, a province in Cheongju, Korea, renowned for the preservation of traditional Korean craftsmanship.
http://london.korean-culture.org/en/22/board/1/read/89586
A discussion with author Ahn Jung-hyo
The Korean Literature Night (KLN) is a monthly discussion group that explores various themes and topics relating to that month's chosen book. We will read Silver Stallion by Ahn Jung-hyo.
Event Date: 25 April, 19.00-21.00
Venue: Korean Cultural Centre UK
Entrance Free – Booking Essential
Apply to info@kccuk.org.uk or call 020 7004 2600 with your name and contact details by Thursday 5th April.
The booking system utilises a lottery based programme that picks names at random, once the final selection has been drawn we will send you an e-mail regarding the result of the selection.
About the Author– Ahn Jung-hyo
Ahn was born in Seoul in 1941. He graduated from Sogang University with a BA in English literature in 1965 then worked as an English-language reporter, columnist, and editor at the Korea Times and Korea Herald.
Ahn made his debut as a translator in 1975, when he published a Korean translation of One Hundred Years of Solitude by Gabriel Garcia Marquez which was serialized in the monthly Literature & Thought. From that time until the late 1980s, he translated approximately 150 foreign works into Korean. He published his first novel titled 'White Badge," about the story of Korean participation in the Vietnam War.
http://london.korean-culture.org/en/919/board/688/read/89452#sthash.eE80fyL5.dpuf
White Badge
26th April 2018, 7:00pm
Event Synopsis:
Writer Han Ki-jo exists in a kind of daze, floating between his cramped apartment, his editor's office and into and out of the lives of his various friends and acquaintances. A Vietnam veteran, Han earns money by publishing articles on his experiences while carrying the ambition to someday write a novel on the subject, if he can ever bring himself to put the traumatic tale down on the page. When an old comrade from his Vietnam war days comes back into his life, Han is forced to recount the terrible war-time experiences that have left the lives of both men in ruins. With a career stretching back to the 1950s, Ahn Sung-ki is considered one of Korea's finest actors; he carries the film here as Han, while ably supported by a standout turn from fellow acting veteran Lee Kyeong-yeong  as the damaged Pyon.
Between 1964 and 1973 South Korea, second only to the United States itself, dispatched the most troops of any nation to the Vietnam War. Renowned writer and translator Ahn Junghyo's first novel White Badge recounts the novelist's personal experiences as a soldier during the conflict.
Director: Chung Ji-young
Running time: 124mins
Event Date: Thursday 26 April, 7:00pm
Location: KCCUK
FREE Admission, booking essential: https://www.eventbrite.co.uk/e/korean-film-nights-2018-white-badge-tickets-43891143592