Here are some of the Korean events due to take place over this week:
London Korean Film Festival 2018 Teaser Screening: Memoir of a Murderer.
DATE: Monday 21st May 2018
TIME: 6pm (Arts Picturehouse) 7pm (Regent Street Cinema)
VENUE:
Arts Picturehouse Cambridge,
38-39 St Andrew's St,
Cambridge
CB2 3AR
Regent Street Cinema,
309 Regent St,
Marylebone,
London
W1B 2UW
ADMISSION: £8 per ticket
DIRECTOR: Won Shin-Yun
RUNNING TIME: 118 mins
SYNOPISIS: "In his youth, Byung-su (Sul Kyung-gu, The Merciless, 1987: When the Day Comes) was a ruthless serial killer, but now he's fallen prey to foes every bit as vicious as his younger self: old age and Alzheimer's. Having long since given up his hobby of removing from society those he felt unworthy of life, the former murderer has settled into a quiet existence looking after a daughter (Seol-hyun, Gangnam Blues) who has no knowledge of his heinous crimes. While a diary helps Byung-su recall his colourful past, the present is becoming increasingly fractured as his memory fails. When a new murderer appears in town, a chance encounter sees the old killer quickly recognise one of his own kind, but when this new threat makes his daughter the next target, remembering has become a matter of life and death…"
[Source]
Buy Tickets:
Arts Picturehouse: https://www.regentstreetcinema.com/programme/memoir-of-a-murderer/
Regent Street Cinema: https://www.picturehouses.com/cinema/Arts_Picturehouse_Cambridge/film/memoir-of-a-murderer
Details: http://koreanfilm.co.uk/
 —
KCC House Concert with Piano Quintet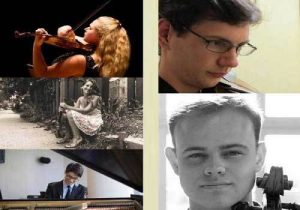 DATE: Tuesday 22nd May 2018
TIME: 7pm
VENUE:
Hall Kcc, KCCUK
1-3 Strand,
London
WC2N 5BW
ADMISSION: Free
Advanced Booking required (RSVP to info@kccuk.org.uk  020 7004 2600) – See more at: http://london.korean-culture.org/en/39/board/2/read/90002#sthash.KEwtrnAT.dpuf
ARTISTS
Amarins Wierdsma          Violin
Lyrit Milgram                    Violin
Joon Yoon                        Piano
Alex McFarlane                Viola
Ben Tarlton                       Cello
PROGRAMME
Schubert piano sonata in C minor, D.958
I. Allegro
II. Adagio
III. Menuetto: Allegro – Trio
IV. Allegro
Schubert Fantasie for Violin and Piano in C major, D.934
I. Andante moderato
II. Allegretto
III. Andantino
IV. Allegro vivace
E.Elgar Piano Quintet in A minor; Op.84
I.Moderato – Allegro
II. Adagio
III. Andante – Allegro
—
FILM SCREENING: The Old Garden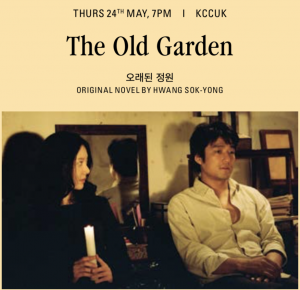 DATE: Thursday 24th May 2018
TIME: 7pm
VENUE: KCCUK
1-3 Strand,
London
WC2N 5BW
ADMISSION: Free
Booking is essential, please do so at: https://www.eventbrite.co.uk/e/korean-film-nights-2018-the-old-garden-tickets-43896453474
See more at: http://london.korean-culture.org/en/38/board/614/read/88696#sthash.kEbnrxIf.dpuf
DIRECTOR: Im Sang-soo
RUNNING TIME: 112mins
SYNOPSIS: "Anti-government protests provide the stimulus for Im Sang-soo's romantic drama that charts a love affair across the years. In The Old Garden, we first meet activist Hyun-woo as he's released from prison after a 17-year stint. Years of cramped, often solitary, confinement have seemingly taken their toll on Hyun-woo, who appears to find difficulty communicating with his family, but in actuality the man's mind is in another place. Journeying back to the village where he spent some time as a fugitive he recalls the time spent with Yoon-hee, a woman who gave him shelter and companionship. While the time spent together was curtailed by Hyun-woo's commitment to his political ideology, it seems Yoon-hee never forgot him, and amongst the letters and diaries that recount the time following his arrest, an even greater gift is waiting to be found.
The film comes courtesy of a novel by Hwang Sok-yong, one of Korea's most celebrated novelists and a political activist in his own right who, like Hyun-woo, spent time in prison for violating the National Security Law."
[Source].
G2 x Young Bros K-Pop & K-Hiphop Party in London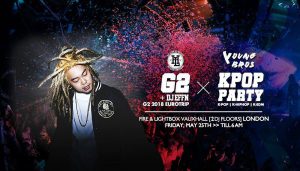 DATE: Friday 25th May 2018
TIME: 10:30pm
VENUE: Lightbox London
6A South Lambeth Place London,
SW8 1SP
London
ADMISSION:
General Concert Ticket + Party = £20 (+Transaction)
SILVER VIP Ticket G2 + Young Bros Party = £35 (+Transaction)
GOLD VIP Ticket G2 + Young Bros Party = £45 (+Transaction)
PLATINUM VIP Ticket G2 + Young Bros Party = £60 (+Transaction)
Tickets on the door = £20
Tickets are available on http://buytickets.at/youngbros/166632
A night featuring South Korean Rapper G2 and a party with K-Pop, K-EDM and K-Hip Hop music!
"We'd like to gather all the fans over London & all over United Kingdom to our party at the venue "Fire & Lightbox" that can host up to 1000 people with 3 separate floors & 3 different DJ sets!
Be ready for a crazy night of dancing and clubbing to ONLY KPOP & KHIPHOP, bringing some of the greatest tunes from all your favourite artists!
Young Bros' DJs will heat up the dance floor remixing the hottest, new & old classic tracks of K-Pop, K-Hiphop & K-Edm Music through all night long until 6 AM! We will make an extremely fun and exciting party so let's Party all together!"
[Source]
Full details can be found here: https://www.facebook.com/events/1655788731172374/