The following events from August 6 to 12 can be found below from the 24K's Europe Tour, Jungyoon Hyren's exhibition and UJJN 3rd year Anniversary Meetup!
If you're planning any events or know of any that you'd like us to feature in our weekly 'Upcoming Events' articles, you can get in touch either on our Facebook page here or you can send an email to info@unitedkpop.com.
Jungyoon Hyen: Walking on Tiptoes
August 6 – September 1 2018
Where: KCCUK, London
The Korean Cultural Centre UK (KCCUK) is pleased to present the first solo exhibition of Jungyoon Hyen, the winner of the inaugural KCCUK and SPACE Studio Award.
The jurors, Jonathan Watkins (Director, Ikon Gallery) and Karen Davies (Head of Artist Development, SPACE) selected, in 2017, Jungyoon Hyen as the 2018 winner of the Studio Award. Beginning in September 2017, this annual award is presented by the KCCUK and SPACE Studio, with the prize comprising of a 12-month residency at SPACE Studio and the chance to present their work at the KCCUK shortly after. The Award marks the beginning of a special relationship between the KCCUK and SPACE as main partners of the Emerging Artists Support Programme for Korean artists in the UK.
For more information, please click here.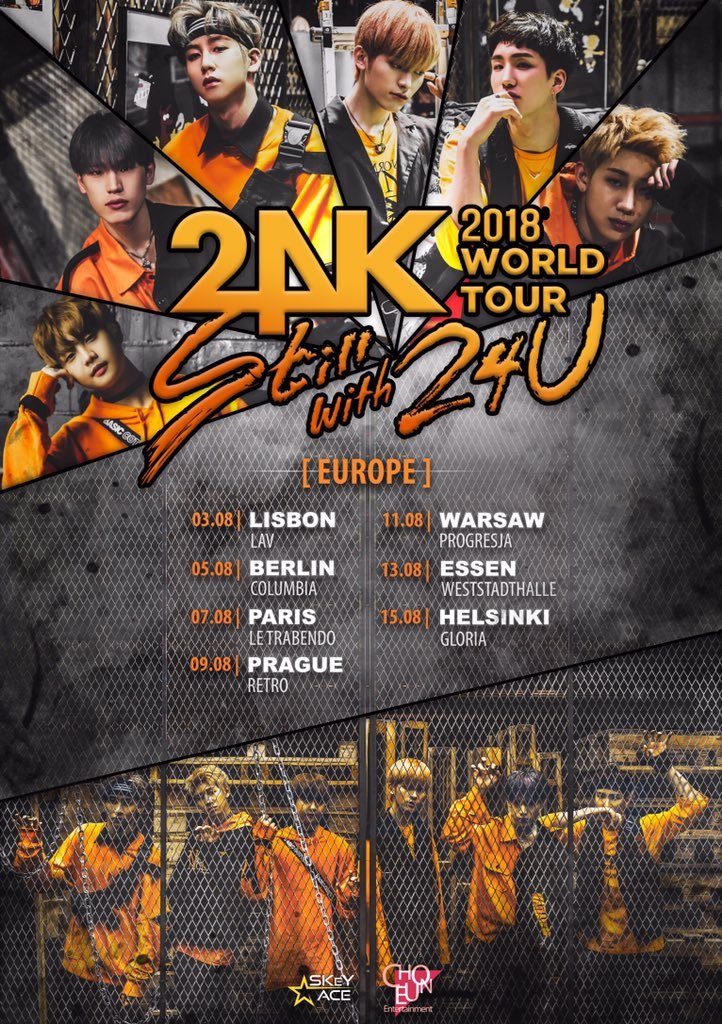 24k "Still With 24U" 2018 World Tour
August, 7, 9, 11, 15 2018
Where: Paris, Prague, Warsaw, Essen and Helsinki
Since their first showcase in Europe in January 2017 and subsequent European tour last August 2017, 24k has returned once more to European soil for their 2018 tour!
For more information, please click here.
Korean Film Nights 2018: "Barefooted Young"
August 9 2018
Where: KCCUK, London
Adolescent films first gained widespread popularity in Korea during the 1960s; of these, The Barefooted Young (or Barefooted Youth, as it is sometimes translated) is the best-known example. In the film, Doo-soo – a lower class gangster – stumbles across a group of thugs harassing two young women. He intervenes, saving the women but getting himself injured in the process. When one of the women, a diplomat's daughter named Johanna, comes to thank him in person, the two begin a relationship. Whilst highlighting the vast socio-economic gap between Doo-soo's underworld and the upper class existence of Johanna, the film reflects the rise of youth culture in the 1960s. Moreover, it portrays the rebellion and force for change bubbling beneath a rigid class structure, as well as its repercussions. Kim Ki-duk (1934–2017), whilst best known outside of Korea for his 1967 monster film Yongary, was one of the leading young directors of the Korean cinematic wave of the 1960s and made distinctive and successful melodramas. The Barefooted Young is Kim Ki-duk's rallying cry against social inequality and class barriers with its effective use of melodrama and romance.
For more information, please click here.
UJJN 3rd year Anniversary Meetup + Random Kpop Dance Game
August 11 2018
Where: Hyde Park, London
"Come and celebrate UJJN's 3 year anniversary with us! We will be meeting people at 12:30 at Hyde Park Corner Station but the event will start at 1pm."
For more information, please click here.