With While You Were Sleeping being one of the most popular dramas of 2017, and with an interesting synopsis, I knew I had to give it a whirl. The 2017 drama is written by Park Hye Ran (I Hear Your Voice) and has a fantasy-romance twist.
Hong-Joo (Bae Suzy) helps her mothers run a pork restaurant. But her peaceful life is disturbed by her ability to see the future deaths of others while she sleeps at night. Although she can see the deaths, she doesn't know when they will happen. This doesn't stop her from trying to prevent these from becoming a reality. One night, she dreams about the death of her own mother.
At the same time, we are introduced to Jae-Chan (Lee Jong-Suk), a rookie prosecutor. It doesn't take long for him to meet Yoo-Beom, his old private tutor, (Lee Sang-Yeob) at the prosecutors' office.  Yoo-Beom and Jae-Chan dislike each other, and the viewer is inclined to see Yoo-Beom as greedy; as a lawyer, he takes on any case that offers him the opportunity to make money.
Conveniently, Jae-Chan and his younger brother move to new house and find themselves being neighbours with Hong-Joo. It is only too soon that Jae-Chan has a prophetic dream in which Yoo-Beom drives Hong-Joo's car which results in the death of Hong-Joo's mother and then Hong-Joo herself. Jae-Chan tries to prevent the sequence of events from occuring, which angers Yoo-Beom but pleases Hong-Joo. The series closes with Jae-Chan and Hong-Joo working together to solve other cases.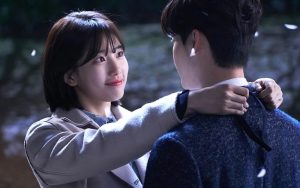 While You Were Sleeping is a drama with some dark themes; crime, murder and nightmares. But that doesn't stop the romance from being sweet; the writing has balanced the two elements well. In fact, the conflicting personalities of Jae-Chan and Hong-Joo as well as the plot twists are critical to the drama's ability to remain entertaining for over thirty episodes. It's a great watch, and it's easy to see why it has been rated as one of the best dramas of 2017. Check out the trailer below: