You may not know this, but a pretty big K-Pop group is in Europe right now. Yes, BTS have been taking the UK by storm this past week and are moving on to their tour stops in Amsterdam and Paris!
If you got the chance to see them in London, hopefully you had an awesome time. Even though I was not able to get tickets for myself, I'm not bitter…really, I'm not! *cries*
Anyway, as you can imagine, there has been quite a lot of coverage on the group from British news outlets, so here is a little summary.

"BTS: Who are they and how did they become so successful?"
Of course, there are a lot of people who have not been riding the K-Pop train and are left asking: "Who on Earth are these guys?!" So it's easy to see why articles like these have been popping up for a while now.
This particular article is written by CBBC, so is obviously geared towards younger readers, but it's still packed with a lot of information. This includes facts, who they are and speculation as to why they have done so well. It makes for an interesting read and is something worth sending along to anyone you would like to introduce them to.
BTS on Graham Norton!
Yes, BTS made their debut on UK television in an appearance on the 'The Graham Norton Show!' Sadly, Jimin had to sit this one out due to severe muscle pain, but the rest of the group seemed to have a good time and, by the sounds of it, a lot of fans were in attendance. Actor Jamie Dornan even volunteered to fill in for Jimin, but hopefully, that won't be necessary!
The boys performed 'IDOL' with Jungkook remaining seated due to his heel injury and filling in for Jimin's parts. They then sat down for a chat and received the shirt off Whoopi Goldberg's back as a gift!
Check out our full coverage HERE.
What with Jimin's muscles and Jungkook's heel injury, you can tell that the members are really pushing themselves on this tour. Hopefully they are also taking the time to rest when they can.
"Meet BTS backstage at their first UK show – BBC News"
"BTS and K-pop: How to be the perfect fan"
Do you ever sit there and wonder – am I the perfect K-Pop fan? Well see if you can tick off all that's listed in this article…
This is a fun piece exploring the crazy world of the K-Pop fandom and giving people a brief overview of who BTS are.
"BTS ARMY oppose petition filed to disband the group over military service exemption issue"
Back in July, Congressman Ha Tae Kyung used BTS as an example of individuals that have served their country so well (in terms of putting South Korea on the map in this case), that perhaps they and – others like them – should have exemptions put on their mandatory military service.
If you are unfamiliar with the details, you can check out an OP-ED on the issue here.
Apparently, a petition was filed to 'Force BTS to disband' following all this debate arising, though the petition itself is quite vague in its reasons as to exactly why. Needless to say, many ARMYs are very angry at the fact that this petition has been made and put forward.
"BTS mega fan spends £75,000 to look like K-pop idol Jimin: 'He is perfection'"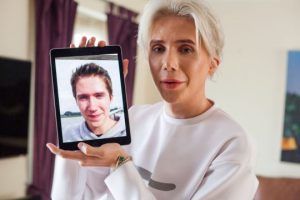 It is a well-known fact that many K-Pop idols are incredibly handsome/beautiful – it sort of comes as part of the package. You might think that your bias is the most handsome/beautiful of all – but would you go as far as to cosmetically alter yourself to look like them?
That's exactly what young British man Oli London has aimed for, and he spent £75,000 to get there.
Read about his cosmetic transformation HERE
"Maisie Williams fangirls at BTS London concert and makes sure her bias Jungkook feels the love."
Actress Maisie Williams – best known for her portrayal of Arya Stark in 'Game of Thrones' -attended one of BTS' London concerts and shared videos of the event on her Instagram. She has previously said that member Jungkook is her bias and can be heard shouting words of encouragement to the members as they perform.
"K-pop stars BTS: the biggest boy band in the world."
This particular article from 'The Times' also features a detailed exploration of the group, but it gained a lot of criticism from ARMYs for the way it talks about them. Unfortunately, you need a subscription to read the piece in full – if you are already subscribed, have a look here.
However, you can read an interesting breakdown of this article here.
Poundland gifts BTS chocolate!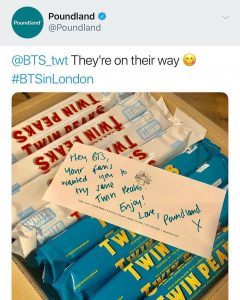 I wonder if they received their bars of chocolate from Poundland. If you are reading this, Poundland, I would also love some free chocolate!
"BTS bid farewell to London with RM's final snaps as band leave UK"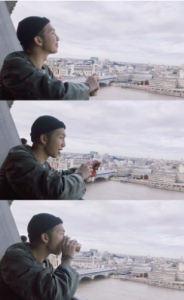 Just before BTS left the English capital, leader RM tweeted some photos with his goodbyes. This article also gives a grand overview of the boys' first time in the UK.
There's also plenty more photos to be seen on BTS' Twitter page!
[Sources: BBC News, Metro News, The Times, edtimes.in, BTS Twitter, Poundland Twitter].