'BTS LOVE YOURSELF IN SEOUL' will be released in cinemas worldwide on January 25th.
Shot at Seoul's Olympic Park, the film captures the opening concert of the band's current tour 'LOVE YOURSELF'. It will deliver an intimate look at the concert for fans, uniting them as they celebrate the worldwide phenomenon that is BTS.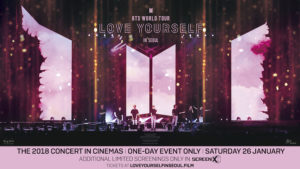 The film screening will be a one-day event in cinemas worldwide. The viewing also aims to run for two weeks in ScreenX theatres in around fifteen countries.
ScreenX is the first multi-projection cinema auditorium that provides a 270-degree experience. Only in selected Cineworld cinemas, it works by expanding film scenes onto the side walls.
In the UK, ScreenX cinemas include:
Castleford
Didsbury
Leeds – White Rose
London – The O2 Greenwich
London – Wandsworth
London – Watford
Milton Keynes
Speke
However, there is no mention of this being on their Screen X listings yet.
Tickets for the film will be on sale from Tuesday 18th December for all confirmed theatres (minus South Korea). Make sure to sign up on the official website to be the first to know when tickets drop.
Will you be seeing BTS' new movie?