On the 13th, EXO released the repackage of their 5th full-length album, 'Love Shot'. 'Love Shot' is a slow and sexy R&B title track and is also accompanied by two new tracks 'Wait' and 'Trauma'. This comeback shows EXO's mature side and has been winning over fans hearts as it is doing very well on iTunes charts across the world.
The title track has #1 in Finland, Latvia, Norway, Romania and Ukraine. It has also charted high in other European countries, such as Poland, Hungary, Greece, Sweden, France, Denmark, The Netherlands and Austria. The track reached #38 in the UK, also.
B-side track, 'Trauma', has also been popular across Europe and charted in Romania, Finland, Poland, Russia and France.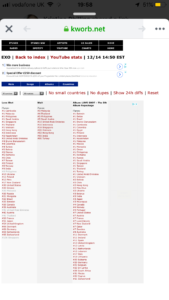 The repackage has hit #1 in Austria, Belarus, Finland, France, Hungary, Italy, Latvia, Luxembourg, The Netherlands, Norway, Romania, Russia, Sweden and Ukraine. It also charted highly in Poland, Denmark, Germany, Greece, Slovakia, Spain and the Czech Republic. The album reached #6 in the UK on the day of release and has remained in the top 20 after 24 hours.
What do you think of EXO's new song?