Monsta X's latest album,
Take.2:
We
Are
Here
, proves
just
how popular the group have gotten!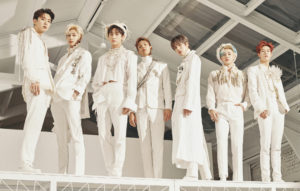 As of 12am BST, the group has charted in 44 countries, 19 of which are European. They have also achieved a no.1 in 12 countries, including Romania.

This is amazing for the group, who reached their first Top 25 spot on Korea's popular streaming site, Melon.
In the UK, additionally, the group did not surpass their peak charting.
However
, the album stands solid in the 20s, peaking at no.21. This has prompted NME, a British music journalism website, to
review
the album.
Monsta X debuted in 2015 with Trespass after competing on survival show, No Mercy. The group received their first major network win with Shoot Out in November, and fans hope that Alligator will exceed that.
Alligator
is an intense yet sophisticated track, where the rap line perfectly compliments the group's vocal tones. The animal
is
a metaphor for making someone fall for them,
just
as an alligator takes hold of its prey. In the UK, the MV currently sits at no.12 on YouTube's Trending. Check it out below.
Congratulations to Monsta X for their ongoing success!