Ryu Jun Yeol became a suprise Valentine during his trip his London!
On Instagram, British comedy content-creator, Snatchy, posted a video where he approached a stranger
. In the video, Snatchy hands the stranger a red heart balloon, asking, "Would you be my Valentine? It's for you."
The surprised stranger, who is none other than Korean actor, Ryu Jun Yeol, accepts the balloon with a laugh.
Fans were quick to inform the content-creator know who his famous Valentine was. Since then, the caption has
been changed
to include Ryu Jun Yeol. Check out the video here!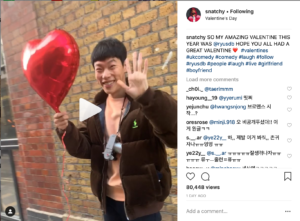 According to the actor's agency, Ryu Jun Yeol received a week's holiday, and travelled to England
.
On the same day, he posted a video of his football friend, Son Heung-Min, at the Champions League match between Tottenham and Dortmund
.
Rui Jun Yeol has since taken to Instagram to upload a photo of the balloon, tagging Snatchy. His caption reads, "My balloon couldn't resist and flew to your hearts, see you guys soon."
Were you suprised to see Ryu Jun Yeol?