[Press release] A.C.E, known as one of the most high-profile K-pop rookie groups, announced today that they launched a new fan project with MyMusicTaste to produce a new photo book from their Europe tour: A.C.E WORLD TOUR [TO BE AN ACE] IN EUROPE.
In collaboration with MyMusicTaste, an online service that allows music fans to request their favourite artists' concerts, A.C.E's project aims to raise US $30,000 to produce a new photo book. This project was created to give a rare opportunity to A.C.E fans around the world to become part of A.C.E's new photo book production.
When the project closes and the funding goal is reached, contributors will receive A.C.E's new photo book that includes exclusive, rare shots from their best performance moments, behind-the-scenes, and street tours. All those who contribute by March 15, 18:00 KST will get a set of A.C.E pinback buttons when the project is successfully completed. A.C.E's photo book project will close on April 26, 18:00 KST.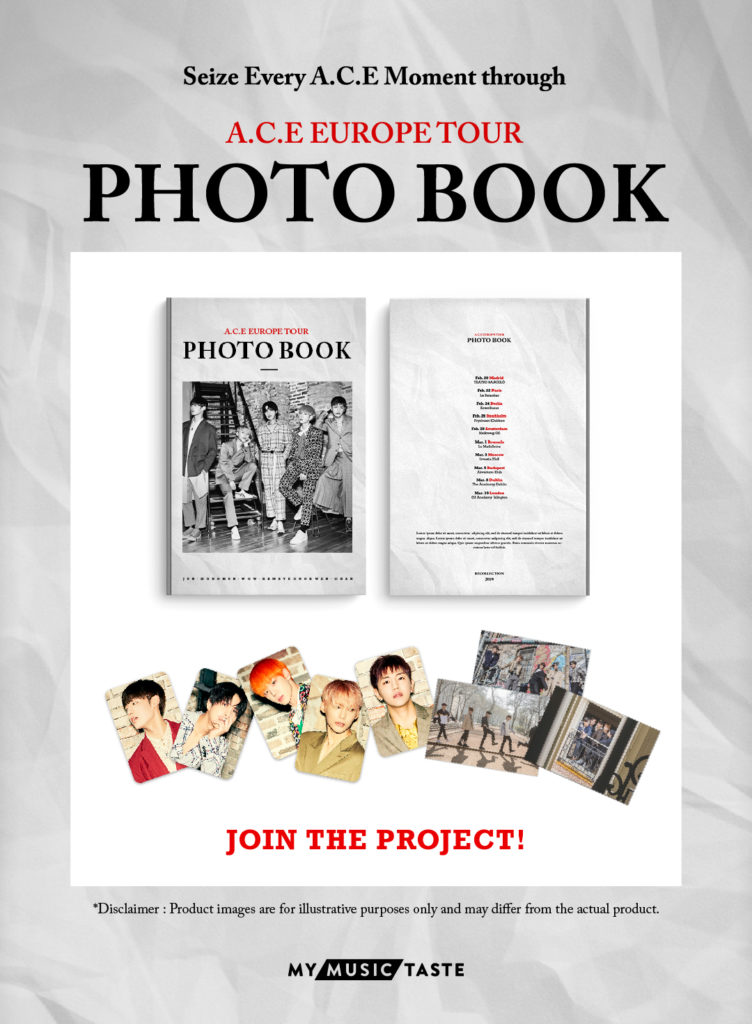 The talented quintet debuted in 2017 with their single "Cactus" and first gained worldwide attention their high-quality covers of groups like BTS and Blackpink. Voted as Billboard's "10 Best New K-Pop Acts in 2017," the group has been able to galvanize a dedicated international fan base with only four songs under their belt. Thanks to A.C.E fans who requested A.C.E's tour on MyMusicTaste, A.C.E recently wrapped up their world tour, A.C.E WORLD TOUR [TO BE AN ACE], performing in 21 cities in 3 continents (North America, South America and Europe).
A.C.E is a boy band composed of five members: Jun, Donghun, Wow, Byeongkwan, and  Chan. A.C.E is an initialism that stands for Adventure Calling Emotions.
For additional information regarding A.C.E's Europe Tour Photo Book Project, please visit
https://mmt.fans/KQtC/