The biggest of the UK's upcoming event this week is Sam Kim's tour with Cult of Ya. Kim will play Paris on Saturday, London on Sunday and conclude in Berlin next week. 
In Europe, Alphabat has events in Prague, Warsaw and Oslo this week.
Rookie group MONT will also hold showcases in Brussels and Oslo this week, and conclude their tour in Gothenburg and Helsinki next week.
Check our Concert Calendar for all planned UK and European tour dates.
1on1 Events are hosting a Kpop Night at the O2 Academy Islington on Friday.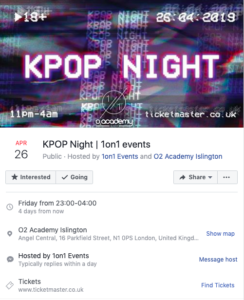 Meanwhile, in Europe, Youngbros are hosting parties in Vienna, Warsaw, Katowice and Cologne.