Back when BLACKPINK announced European tour dates, we wondered whether Dua Lipa would join them on stage
. It turns out she did, but not in Europe!
On May 1st, the British singer showed up at the group's Newark concert, surprising everyone in the audience
. No one had been aware of her appearance, but once she did appear, everyone knew what was coming. It was a live performance of their duet track, Kiss and Make Up, released last October.
After the performance, Dua Lipa took to social media to share a photo of their soundcheck.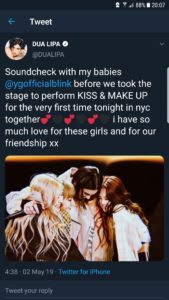 BLACKPINK then shared a
video
on Instagram of Dua Lipa's performance.
Hopefully
this will not be the only time they perform this song together live!