Amid a comeback-filled month, TXT, NU'EST, and VAV are fighting for their place on European iTunes
.
VAV's mini-album Poison charted in the top 100 of five European countries: Hungary Sweden, Russia, Denmark, and Austria
. Out of these countries, their most notable feat is Hungary, taking the second spot.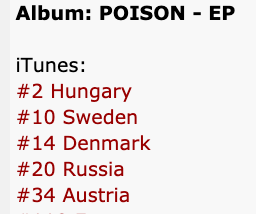 Although NU'EST's mini-album The Table took seven no.1s worldwide, none of these was in European countries
.
However
, the mini-album charted in the top 100 in Denmark, Russia, and Spain.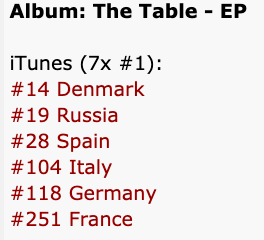 Despite there being

multiple

comebacks on one day, it appears that TXT had a better day in Europe.

 Their first full album The Dream Chapter: MAGIC was the only comeback to gain no.1s in European countries.
 Out of 23 countries worldwide (as of 21;00 BST), 10 peaked at no.1. This includes Austria, Denmark, Estonia, Lithuania, Norway, Romania, Russia, Sweden, Turkey, and Ukraine. The group did not chart lower than no.10 at its peak.
In the UK, the album missed out on the top spot but peaked at no.2.

As well as their iTunes success, their MV is the top trending YouTube video, reaching no.8 in the UK as of 21:00 BST.

Fans also trended #RunAwayWithTXT on Twitter, becoming the second top trend in the UK.
Were you able to catch each comeback? You can check out each group's MV below!
VAV – POISON
NU'EST – LOVE ME
TXT – 9와 4분의 3 승강장에서 너를 기다려 (RUN AWAY)
Congratulations to TXT, NU'EST, and VAV on their European success!