ATEEZ wraps up their rookie days with an unforgettable celebration, full of throwbacks, remixes and more.
With COVID-19 putting a stop to world tours, several Kpop groups have adapted their online streams into concerts for fans to enjoy from their own homes. ATEEZ, having been due to perform in Europe for their second world tour in April, took to the stage once again on 24th October. This time, the group collaborated with MyMusicTaste for an exclusive concert to mark their second debut anniversary.
Introduction
ATEEZ began the concert with two powerful performances. The boys jumped into view holding anniversary banners, before breaking into their recent release, "THANXX". With the concert starting at 07:00 BST, the song shot me out of bed.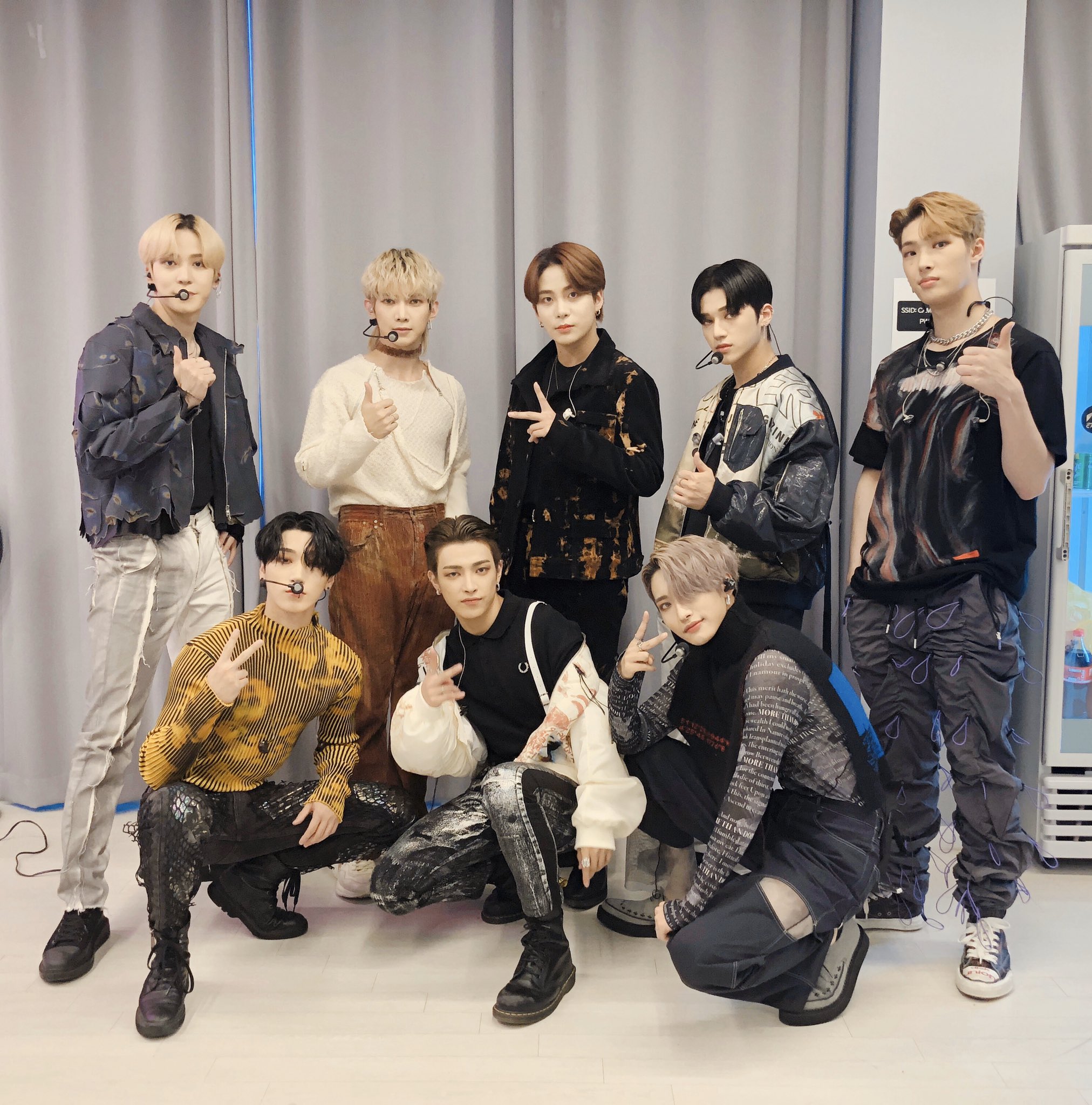 Maintaining their high energy levels, they then performed "Good Lil Boy", another hit off of their latest mini-album, "FEVER PT.1", before greeting fans.
The night would promise to make even the newest of fans experts by the end of it.
A Voyage through the Past
Next came a recap of the group's first series, "Treasure". The boys split into individual units to perform sections of fan-favourite hits, including "Pirate King", "Hala Hala", "Wave", "Win" and "Answer". In the end, they reunited – outfits changed from white shirts to all black – to perform each song in full. "Wave", however, was saved for the end of the segment.
If that wasn't enough, fans were in for a treat when they heard the familiar sounds of "SICKO", "One Time Coming" and "Pick It Up". Turns out, ATEEZ had prepared a medley of their pre-debut dance covers.
Each performance reminded fans of the group's on-stage charms and concepts that made them Atinys in the first place.
2020 Port of Call Awards
The next segment would take a pause in performing and instead showcase the group's off-stage personas. The segment, titled "2020 Port of Call Awards", celebrated the members' various charms, with Yunho acting as the MC for the event.
Not only did this segment give fans the opportunity to see the group relax and showcase their charms, but it also gave the members a chance to look back at their past selves.
Awards celebrating personal moments included "Yes Sir I Answer", which saw San, Yeosang and Seonghwa sharing their conversations to see who replies the fastest. The award went to Seonghwa. The "Biggest Gap" award celebrated duality and went to San and Mingi. Additionally, Woosung and Yeosang took the "We Belong Together" award that saw them follow each other to KQ Entertainment as trainees.
As well as personal awards, ATEEZ also celebrated their career achievements under the category of "Making a New Way". The awards went to the remaining members, with Jongho winning "Best Content" for his OST covers, Hongjoong winning "Best Indulgence" for his acting in ATEEZ's "Diary Film" and Yunho winning "Best Entertainer" for his MC-ing skills.
Remixes and Vocals
With the awards over, ATEEZ switched it up with performances "Say My Name" and "Promise". Guitarist Park Juwon accompanied these performances, giving fans a live take on songs from their special remix album. Not only did these performances shine a spotlight on Park Juwon, but it served as a reminder of the group's versatility.
The group shared their wishes to perform more of their remixes in the future. Wooyoung, in particular, wanted to perform the EDM remix of "Illusion". Yunho interestingly suggested an orchestra version of "Say My Name".
The discussion of future performances reminded ATEEZ of their fans singing along to their songs. Mingi brought up a fan sing-along project for "Star 117" and shared how it touched him. With this, the group performed a piano version of "Star 117".
This was followed by "With U" and the first-ever performance of the Japanese song, "Better".
Halloween Specials
After such sentimental performances, it was difficult to tell what song would be next. I anticipated "Inception", as they had yet to perform it. However, ATEEZ surprised fans with a cover of "Black Cat". The song served as an ode to their appearance on Immortal Songs in September. This time, the intense make-up and set hinted a Halloween MV release for the song.
Next came "Wonderland". Already a song that was perfect for Halloween, eerie sound effects made this performance much darker and ominous. Who would have known it was possible?
Hopes for the Future
Whilst the group changed backstage, screams for an encore began. The VCR showed the members appearing individually to encourage fans to scream from home. At the same time, social media messages from fans showed up on the screen, before cutting to backstage footage of the members. Donned in their red jackets from their Seoul concert earlier this year, fans watched as they prepared for their next, highly-anticipated performance – "Inception".
As the concert neared its end, the group wrapped up their thoughts, choosing to sit and read messages that fans had written using the hashtag "#2_years_with_ATEEZ". Additionally, the members read fan letters from the first anniversary concert "MOON RIVER" in 2019.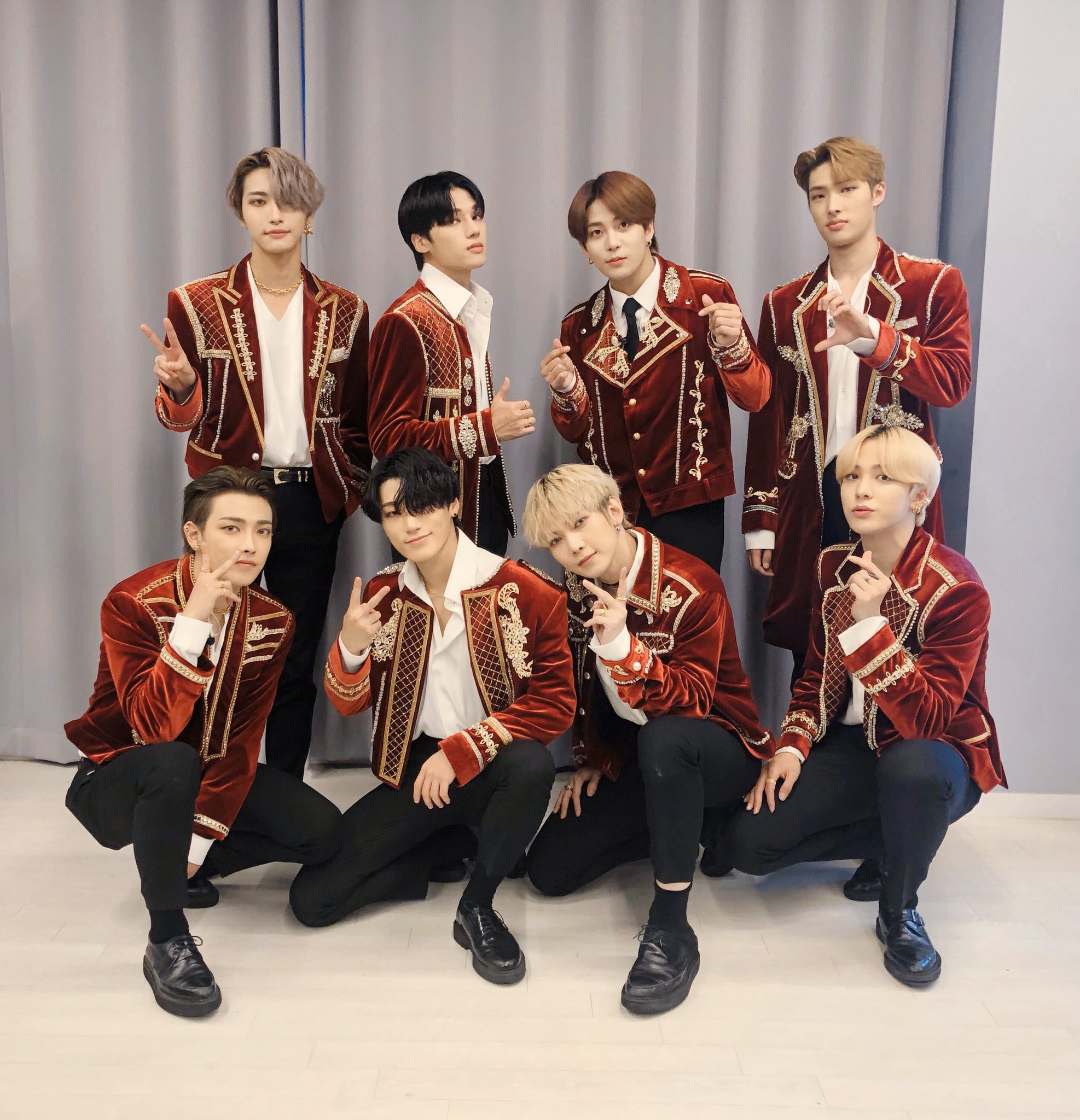 The heartfelt messages led the members to express their own frustrations about not being able to see the fans. However, they hoped to continue showing their love and meet again in the future.
To end the concert, ATEEZ performed "One Day at a Time". The all-English song became a perfect finale that amplified the members' ending ment of wanting to be a means of support for their fans during tough times. With this, ATEEZ wrapped up their second year of debut, ready to begin the next stage of their journey with Atinys.
If you missed out on "ATEEZ 2ND Anniversary Online Concert: Port of Call", you can purchase the concert VOD on MyMusicTaste to re-watch the event.
We at UnitedKpop thank MyMusicTaste for inviting us to celebrate ATEEZ's second anniversary with them.