The Live In Seoul DVD is a recording of BB's Seoul concert in early 2012 (they did three nights in a row. Sunday was recording night). As far as the setlist goes, it is almost the same as what you got for the entire tour internationally. During this time Still Alive was not released yet so you will not get Monster or Feeling in the setlist. Instead there are songs like Ain't No Fun, Love Dust and Sunset Glow included.

What really stuck out for me from watching this DVD is the strong appreciation the band has for the VIPs. They are truly grateful for the support and show it with love in their singing and their speeches. Of course the bromance with one another is delightful, especially during the encore when the band mellow down and have fun with the fans and with each other. For instance, the guys wanted to strip GD of his shirt but GD refused and then everyone moved to Seungri yet he also resisted. Eventually Daesung lost the battle to keep his shirt on and he became topless, much to the delight of the VIPs.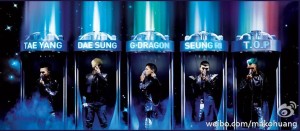 While I do think each member is brilliant at entertaining the fans, Seungri is perhaps the ultimate MC at Big Bang's live shows. He often speaks with confidence and urges the crowd to scream louder, always feeding on their crazy energy. I also noticed TOP is dorkier in these shows (watch him do the Fantastic Baby dance when the guys are teaching the fans how to do the 'wiper' move). I laughed so much when he tried to sing the beginning of the chorus in Daesung's Wings. It sounded as though he was putting on a rockstar growl. TOP, if you ever want to go rockstar again like you did on Oh Mom then go for it.
Taeyang enjoys interacting with the fans and when he sings and dances you feel a deep connection to him. I have always loved Daesung's Wings track. It's rather uplifting and as I never got to see Daesung fly with my own eyes in Wembley this was a fascinating performance to see what I missed. He has an infectious smile which warms many people's hearts and he takes the time to acknowledge every person in the crowd. G-Dragon is a very charismatic performer, seducing the VIPs with his dance moves like Taeyang and spreading his magnetic presence while he raps or sings.
My biggest surprise while watching this concert were the performances of songs that were eventually cut from the main setlist for the rest of the Alive tour. I never thought I would enjoy Ain't No Fun live. It was funky in a live setting. A shame it was taken out of the setlist (not sure of the reason. Perhaps it demands a lot when performed live or the organisers wanted to redo the setlist to make room for newer songs. Who knows?). Sunset Glow was fun and it was personally my first time seeing it live since I haven't finished watching Big Bang's previous concerts yet.
As for the main favourites, you can never go wrong with Haru Haru. I prefer it acoustic because it brings out the emotional side of the track and it is so touching when Big Bang ask the fans to sing the chorus to them. Fantastic Baby and Bad Boy are clearly the big fan favourites from the Alive era and Big Bang perform it again in the double encore. It is actually difficult to pinpoint any favourite performance from this concert as I felt every track was performed energetically and got everyone dancing and jumping to the music.
If you managed to see Big Bang on their Alive tour last year you will find yourself reliving a lot of the band's theatrical performances but also their most intimate moments when they sing a slower track like Blue or Love Song. If you were not able to see these guys live do not fret because you will feel like you are actually there. The camera zooms up constantly on each member and they look at the camera directly a few times so it does feel like they are looking in your direction.
Should you want more zoom up of the guys I recommend watching the multi-angle section on the second DVD which also has the behind the scenes footage. The multi angle feature focuses on the second encore of Bad Boy. Five camera angles for each member. It's interesting to see how BB individually interact with the fans. Whether it's teasing them, splashing them with water, throwing shirts or even singing to the lucky front row people. If you were not sure what one member was up to while you were focusing on another person, you could take advantage of the multi-angle. The behind the scenes footage is great because it shows how Laurieann Gibson choreographed the opening Alive shows.
To be honest I originally thought this DVD was going to be based on the big finale Seoul gigs that took place in January 2013 but was a little disappointed this did not turn out to be the case. Nonetheless I think this DVD is an absolute treat for anyone who wants to see the beginning of the Alive world tour and Big Bang's explosive comeback as a band.