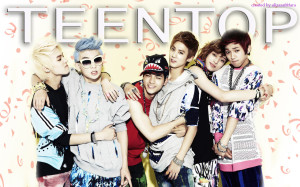 TEEN TOP members Niel and Changjo were recently guests for the recording of SBS' 'Challenge 1000 Songs', where they were asked about their European tour.

The MC of the show asked them about the differences between Korean and European fans, to which Niel hilariously answered that "There's not much of a difference, except that European fans like to throw their underwear on stage. Once, I was hit by one that a fan threw on stage", which caused everyone to laugh.
It seems that Niel didn't specify which country in their five-city European tour this incident occurred in, but we've heard rumours that it actually happened here in the UK.
So, here at UnitedKpop, we're asking; do any of you know this mysterious knicker-launcher?
(Come on guys, which one of you was it?)
And what are your thoughts on throwing underwear on stage? Personally I think it's a little bit inappropriate, especially when you take the ages of these boys into account; the oldest member is only 20 years old! Or think about it this way; would you want a guy throwing his boxers at you? Hopefully not.
Let us know what you think about it!
Cr: Allkpop.com