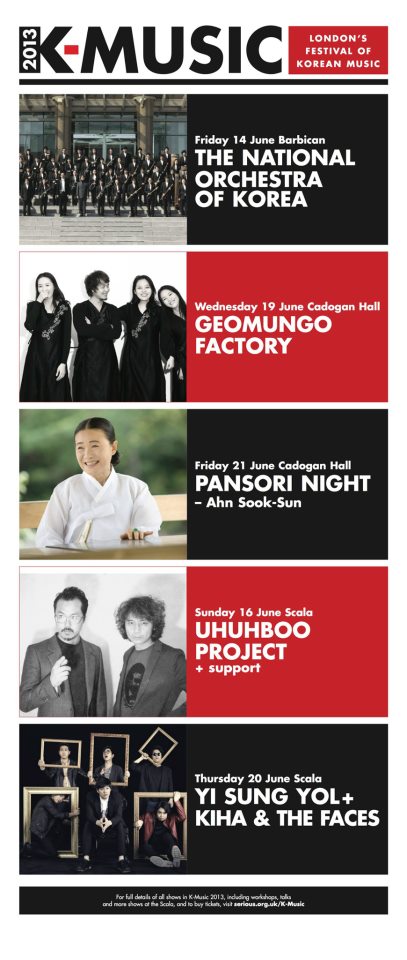 As previously reported, the Korean Cultural Centre UK (KCCUK) have announced the '2013 K-Music Festival'. The KCCUK have now announced how you can book tickets for the events they have lined up.

FRIDAY 16th JUNE – National Orchestra of Korea > Book Here
WEDNESDAY 19th JUNE – Geomungo Factory > Book Here
 FRIDAY 21st JUNE – Pansori Night: Ahn Sook Sun > Book Here
SUNDAY 16th JUNE – Uhuhboo Project and UK Band > Book Here
THURSDAY 20th JUNE – Yi Sung Yol Band and The Faces > Book Here
FOR FURTHER ENQUIRIES PLEASE CONTACT KCCUK
020 7004 2600 / info@kccuk.org.uk
Even though many of us were probably hoping for some K-Pop acts to be included in the events, one cannot deny the huge amount of talent that will be present at this year's festival.
Each act showcases a different style of South Korean music, which shows the real diversity you can find in the county's history. K-Pop is a fairly new genre when you look back at South Korea's life-span and these musicians keep the vibrant history alive and showcase the sort of themes that influence the modern day artists we see today.
This is definitely an event for the K-Pop fans among us that are interested in the wider culture that South Korea has to offer and is a great chance to familiarise with the country's native sound.
Book your tickets now!
Will you be going to any events at this festival?
Let us know!
KCCUK main Facebook Page.
[All image and information credit goes to the KCCUK]